Good Omens launch
Benedict Cumberbatch joins Good Omens ahead of 31st May launch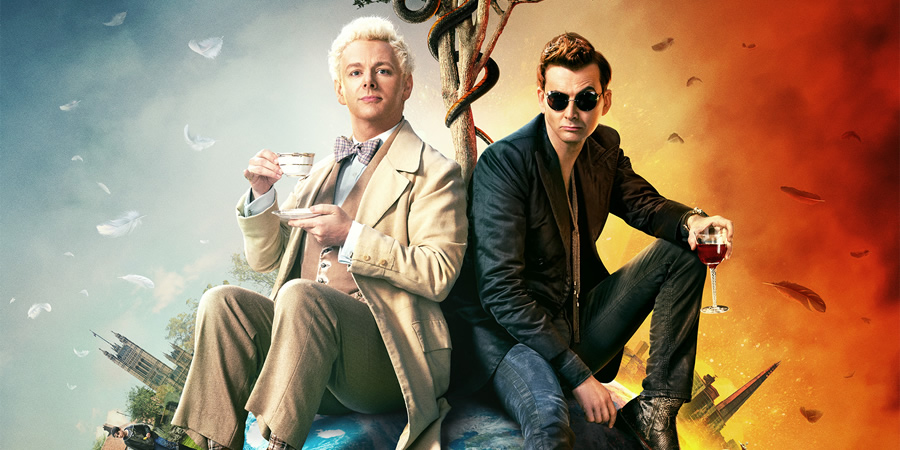 It's been revealed that Benedict Cumberbatch has joined Good Omens, as Amazon announces that the much-anticipated comedy drama will launch in over 200 countries on its Amazon Prime streaming service on 31st May.
The show, which is a co-production with the BBC and will be screened on BBC Two later, is based on the book by Terry Pratchett and Neil Gaiman. Doctor Who and Dirk Gently director and executive producer Douglas Mackinnon has overseen filming.
The six-part series follows Aziraphale and Crowley - played by Michael Sheen and David Tennant - an angel and demon who are forced to collaborate to stop the world ending.
Sherlock and Cabin Pressure star Benedict Cumberbatch will provide the voice of Satan in the programme. Gaiman revealed the news whilst speaking at The Television Critics Association press event in America. Talking about the character, he teased: "It's a giant animated Satan. He turns up and we needed a performance that works. So we found a young British help that needed a lot of direction from Douglas... Benedict Cumberbatch!"
Double Oscar winning Fargo and Three Billboards star Frances McDormand will play opposite Cumberbatch as the voice of God.
Other stars previously confirmed for the show include Jack Whitehall, Miranda Richardson, Jon Hamm, Reece Shearsmith, Mark Gatiss, Josie Lawrence and Derek Jacobi.
Amazon has just released the opening titles for the programme:
Commenting at the start of production, Neil Gaiman - who is acting as showrunner on the series - said: "People have fallen in love with an angel and a demon in a book by Terry Pratchett and me, and they have been excited and nervous to see how they would appear on screen - and I was probably the most nervous and excited of all", adding "Michael Sheen is the best and finest of bookseller angels, David Tennant the coolest and most delightful of demons. Together they are one hell of a double act (or do I mean one made in Heaven?)"
Talking about the storyline, BBC Studios explain: "Aziraphale and Crowley have lived amongst Earth's mortals since The Beginning and have grown rather fond of the lifestyle and of each other. So it's really terrible news for both of them that, if Heaven and Hell have their way, the world will end on Saturday. Next Saturday, in fact. Just before dinner. The armies of Good and Evil are amassing, Atlantis has risen, tempers are flaring. The Four Horsemen Of The Apocalypse are ready to ride. Everything appears to be going according to Divine Plan. Except that someone seems to have misplaced the Antichrist..."
Good Omens was filmed in 2018 in London, Oxfordshire and locations in South Africa. Below is a picture of the director, stars, and co-writer:
See tweet
---
For updates, click the button below.
Share this page