Morecambe & Wise In America
Jonathan Ross to present Morecambe & Wise In America
TV documentary Morecambe & Wise In America will tell the story of the duo trying to make it in USA
The three-part series, which will be shown on Gold this December, will be presented by Jonathan Ross
It features over an hour of footage that has never been seen in the UK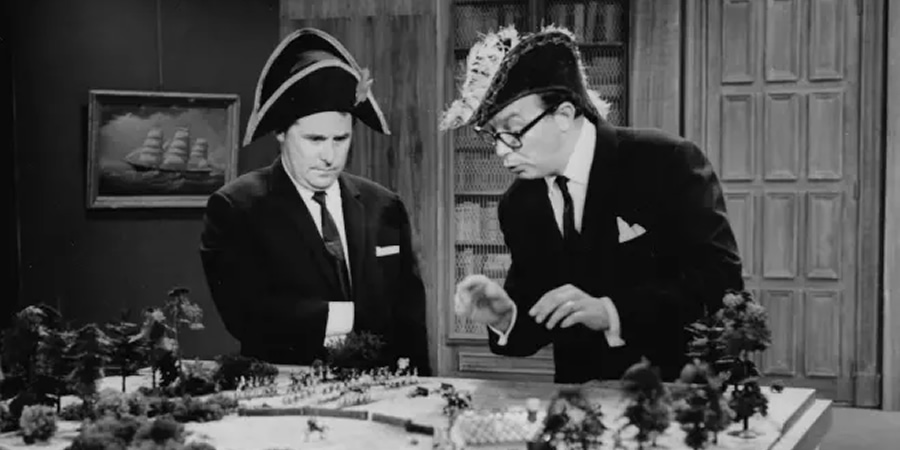 A new documentary series will focus on Morecambe & Wise's attempts to break America, featuring over an hour of footage that has never been seen in the UK.
The three part Morecambe & Wise In America will be shown on Gold this Christmas.
The series will be presented by Jonathan Ross. He says: "As a fan of both Morecambe & Wise and vintage American TV, it's been a real joy to discover all this footage of their performances in the States in the Sixties. I'm looking forward to telling the story for Gold's viewers of how Eric and Ernie's work in America became a tantalising foretaste of their very best shows here in Britain."
Over the course of five years in the 1960s, Eric Morecambe and Ernie Wise made multiple trips to New York to appear on the USA's biggest variety show, The Ed Sullivan Show - also credited with helping The Beatles 'crack' America. The untold story of their attempt to make it in the States will be documented in this series for the first time, including footage that has never been shown on British television before, alongside Eric and Ernie's own photographs, home movies and memorabilia from the time.
In the three hour long episodes, Jonathan Ross will also peel back the curtain on the working dynamic of the legendary pair behind the scenes, with contributions from family and colleagues as well as some of the legendary guest stars who worked with them including Glenda Jackson, Nicholas Parsons, Millicent Martin and Dame Diana Rigg.
The series also includes Morecambe & Wise's very first appearances on television in colour.
Morecambe & Wise in America is commissioned for UKTV by Joe McVey, commissioning editor, and ordered for Gold by Richard Watsham, director of commissioning, and Steve North, genre general manager, comedy and entertainment. Morecambe & Wise in America is produced by Double Yellow (Bob Monkhouse: The Million Joke Man) in association with SOFA Entertainment, and executive produced by Mark Wells of Double Yellow and Andrew Solt of SOFA Entertainment.
Commissioning Editor Joe McVey says: "Morecambe & Wise are as much part of Christmas as presents, carols and unbearable family tension, and this is the untold story of how their attempt to crack America in the 60s shaped their golden era and all of our Christmases ever since and forever. As many as 60 million people watched them on The Ed Sullivan Show, so if the British public could all watch it, that would be a great Christmas present for me."
Gerald Casey, Gold's channel director, adds: "The discovery of this footage amounts to a treasure chest of essential new material for any comedy fan. We hope Gold viewers will be as enthralled by the on-stage routines and off-stage revelations in these shows as we have been."
The series is being made by Double Yellow, who previously produced Bob Monkhouse: The Million Joke Man, in association with SOFA Entertainment.
Executive Producer Mark Wells comments: "The footage of Morecambe & Wise working on American television in the Sixties is fascinating, because to begin with the audiences don't quite know what to make of them. But Eric and Ernie established themselves very quickly, and performed some wonderful routines that British viewers will never have had the chance to savour before."
Morecambe & Wise In America will air on Gold in December.
---
For updates, click the button below.
Share this page