Inside No. 9 Series 5
Inside No. 9 Series 5 commissioned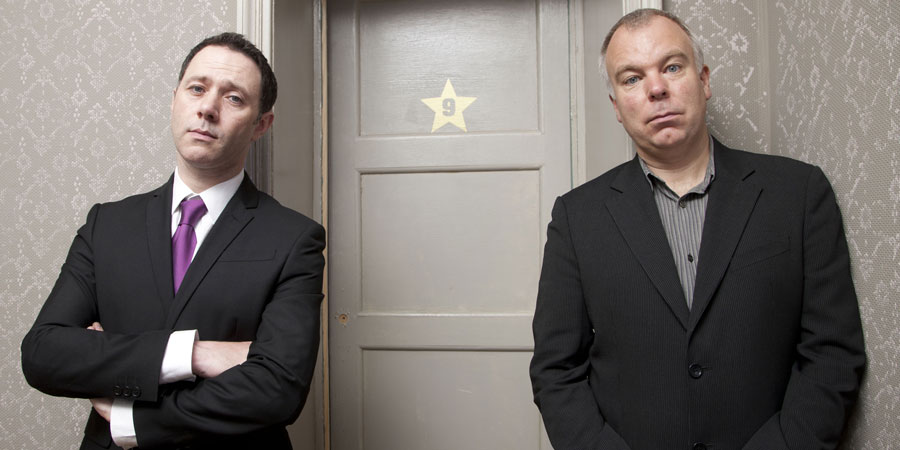 BBC Two has confirmed a fifth series of Inside No. 9 has been commissioned.
Written by and starring Reece Shearsmith and Steve Pemberton, the anthology series mixes comedy, horror and drama, with each episode marking a different subject and style.
The show has achieved great critical acclaim and collected a number of prestigious awards, including last week being voted by the public as both Best Comedy Drama and Comedy Of The Year 2017 in the Comedy.co.uk Awards.
Series 4, which concludes tonight at 10pm with an episode entitled Tempting Fate, has been described by the press as "a selection box you have lost the little paper menu for... full of surprises" (The Guardian) with "no room for improvement" (Daily Mirror).
The first episode of the latest series has consolidated viewing figures of 1.8 million after 30 days; the highest the programme has seen to date.
BBC bosses promise a "stellar cast" of guest appearances for the six new episodes in Series 5. They tease: "The fifth series will stay true to the show's anthology format, with each episode bringing an original story, a new raft of characters and surprising twists in the most unexpected of places. Combining horror, thriller, drama and comedy, Inside No. 9 never fails to amaze, delight, unnerve and amuse in equal measures."
Steve Pemberton and Reece Shearsmith say: "Having tried and failed to convince the BBC to produce a full Cheese & Crackers series (or at the very least a Summertime Special), we have reluctantly agreed to do another series of Inside No. 9. We will once again attempt to trick, tickle and terrify you - but not necessarily all at once. Unless there's a twist. Which there won't be. Or will there? Huge thanks to BBC Comedy and BBC Studios for their continued support, and to our loyal fans for continuing to spread the word."
BBC Comedy Commissioner Shane Allen comments: "Reece and Steve continue to dazzle, shock and knock audiences for six with their uniquely layered storytelling craftsmanship which attracts the cream of British acting talent. There is not a more distinctive or ambitious comedy show being made anywhere in the world right now as week in week out they create whole new worlds and sets of characters which have instant impact."
Chris Sussman, Head of Comedy at production company BBC Studios, adds: "We're incredibly proud to make Inside No. 9 through BBC Studios. It represents the best of British talent at their absolute peak."
Patrick Holland, Controller of BBC Two, says: "Inside No. 9 is peerless comedy. Reece and Steve's writing continues to shock, surprise and entertain in a way that is utterly unique. I am thrilled that the series is returning to BBC Two next year, it is a vital part of our mix of comedy on the channel."
The four series to date are available now on both DVD and high definition Blu-ray. Details
Inside No. 9 Series 5 will be shown on BBC Two in 2019.
---
For updates, click the buttons below.
Share this page