Last Of The Summer Wine to end
Last Of The Summer Wine to end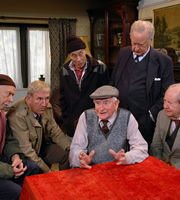 Leading Last Of The Summer Wine fansite The Summer Wine Chronicle is reporting that the programme - the world's longest running sitcom - will not return after the forthcoming series.
The show's long-time producer/director Alan J. W. Bell has reportedly informed the website that the forthcoming 6 new episodes, which will be the show's 31st series, will also be its last.
The news will come as little surprise to many comedy fans, following a steady decline in LOTSW's viewing figures in recent years, and a quickly ageing cast. Rumour was particularly rife in Spring 2009 of the show's demise following a largely maligned Series 30, but fans were mostly pleased to learn of it being recommissioned. However, many remained cautious of the programme's lifespan as only 6 new episodes were ordered, compared to the 10 that had become customary for the show since the mid 1990s.
Including the pilot episode - which was broadcast in January 1973 as part of the BBC's long-running Comedy Playhouse strand - and the upcoming Series 31, 295 episodes of the classic sitcom have been produced. Other offerings have included books, spin-off prequel First Of The Summer Wine (1988-9), and stage productions; the most recent of which toured the UK in late 2009. The now apparently final Series 31 is due to air in August 2010.
Share this page