Spitting Image USA
HBO to make Spitting Image series
American network HBO is reportedly making a new version of Spitting Image
Donald Trump is said to be on the the key targets for the new version of the puppet show
The Sun newspaper quotes a source as saying: "Preparation on the famous faces has already begun"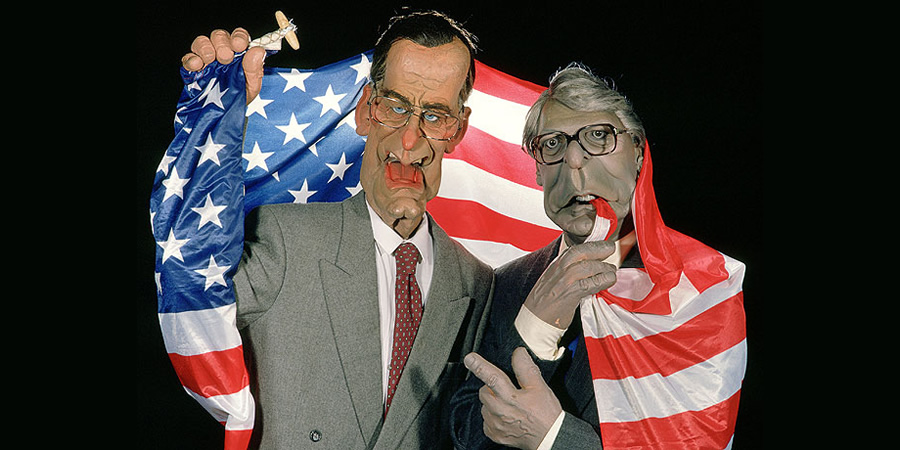 American pay TV network HBO is reportedly set to make a new version of satirical puppet sketch show Spitting Image.
The Sun reports a source saying: "It's a huge project by HBO. Preparation on the famous faces has already begun."
Donald Trump is believed to be one of the key targets, with the source adding: "There has never been more material for political satirists."
However, no official confirmation or announcement has yet been made.
Spitting Image launched in 1984 and soon became one of the most watched programmes on television, with 15 million viewers at its peak. It ran to nearly 150 episodes and won a number of awards but was cancelled by ITV in 1996.
The network had planned to revive the comedy in 2006, but the project fell apart after they included puppet versions of Ant & Dec in the documentary Best Ever Spitting Image, against the wishes of co-creator Roger Law. ITV has, instead, since broadcast animated and CGI satirical shows including Headcases and Newzoids.
In 2015, producer John Lloyd spoke about how Spitting Image could return. He said: "For 12 years a whole generation learned their politics from a late-night comedy show on ITV. The average teenager could name eight or nine members of the Cabinet and three or four members of the opposition."
He also said: "Everybody seems to have residual affection for Spitting Image. It could be scrappy and uneven, but it's rather like a newspaper. You don't expect it to be brilliant every time, but there's something delicious in every edition."
Many of the original British Spitting Image puppets have been sold since the series went off air. Most recently, in February, the puppets of Neil Kinnock and his wife Glenys were sold at auction for £3,400
This is now, however, the first attempt to bring the Spitting Image format to America. In 1986 the original production team made the one-off Spitting Image: Down And Out In The White House special for NBC, and followed it up with further specials titled The Ronnie & Nancy Show, The 1987 Movie Awards, Bumbledown: The Life And Times Of Ronald Reagan and The Sound Of Maggie.
The Sun suggests that the new HBO series will be shown on Sky in the UK, although this has not been confirmed. Further details are expected in due course.
Spitting Image has not been broadcast in Britain for a number of years, but the first twelve series are available on DVD
---
For updates, click the button below.
A milestone in television comedy, Spitting Image lifted satire to a new level for over a decade through the 1980s and 90s.
No target was safe from the series' gunsights: politicians of all persuasions, Ronald Reagan, the Pope and even the Royal Family could find themselves up for a ribbing on any given programme. Exceptionally topical, the series was worked around that current weeks news stories to retain its biting edge and many famous impressionists honed their craft portraying the voices behind the wickedly accurate rubber puppets: Chris Barrie, Rory Bremner, Phil Cornwell, Steve Coogan, John Culshaw, Harry Enfield and Kate Robbins (among many others).
This box set contains the first 7 (of 21) series of the programme, over 11 discs.
First released: Monday 2nd November 2009
Distributor: Network
Region: 2
Discs: 11
Catalogue: 7953127
Buy and sell old and new items
Search for this product on eBay
It looks like you're in the US? Fear not! Almost everything can still be ordered.
Amazon UK
deliver internationally,
Amazon.com
carries many items separately, or you can look out for US/Canadian flags on our product listings for direct links.
If ordering from a UK store, please note that you are in Region 1 (DVD)/Region A (Blu-ray), whilst the UK is in Region 2/B, respectively. This means that many - but by no means all - may fail to play. Look for products marked "Region free", "All regions", "Region 0" or "Multi-region". Blu-rays may also be marked "Region A/B/C", or variations thereof. You may also check whether your DVD/Blu-ray player supports multi-region playback (also referred to as "region free"), or whether it can be set to do so. There should, of course, be no problems with books, CDs, or other physical items.
More advice & help on importing
Share this page