At Last The 1948 Show episodes rediscovered
At Last The 1948 Show episodes rediscovered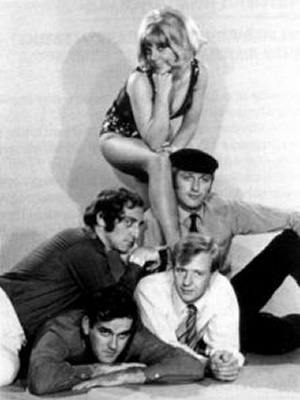 The BFI has announced the recovery of two further editions of At Last The 1948 Show.
Running for two series in 1967, the ITV series was written by and starred John Cleese, Graham Chapman, Tim Brooke-Taylor and Marty Feldman.
Other stars and contributors included "the lovely" Aimi MacDonald, Eric Idle, Dick Vosburgh, Jo Kendall, Barry Cryer and Bill Oddie.
The news means that, out of 13 episodes produced, 11 are now held by the BFI's National Archive, with all 13 existing as audio recordings. Twenty-five years ago, only two editions were known to survive.
The sketch show offered a range of spoofs of different broadcasting formats and occasional long-running gags, such as the recurring appearance of "the lovely" Aimi MacDonald as a presenter between sketches, under the impression that she is the star of the show.
One of the newly recovered episodes, returned to the BFI by a man named today as Mark Rigby, includes a favourite sketch of John Cleese's. The Bookshop sketch, in Series 1 Episode 3, sees the comic playingan exasperated shop owner dealing with the increasingly surreal requests for books by a very demanding Marty Feldman (Copperfield with one 'p').
Steve Bryant, Senior Curator of Television at the BFI National Archive said today: "Once almost forgotten, the recovery and restoration of episodes of At Last The 1948 Show by the BFI over the past 25 years has led to it being acknowledged as one of the key milestones of British television comedy.
"Now we have another two missing episodes, and a third which was missing a brief segment, and the archive's collection is almost complete - but the search still goes on. It is particularly gratifying to get back the Bookshop Sketch, one of the show's great classics and recognised as such by John Cleese in his recent autobiography."
In one linking item she utters the words, "And now for something completely different..." - the continuity announcement cliché which would resurface as a recurring motif in Monty Python's Flying Circus two years later.
A DVD comprising of five compilation episodes from the series has previously been released
Share this page