Missing 'At Last The 1948 Show' episodes found
Missing 'At Last The 1948 Show' episodes found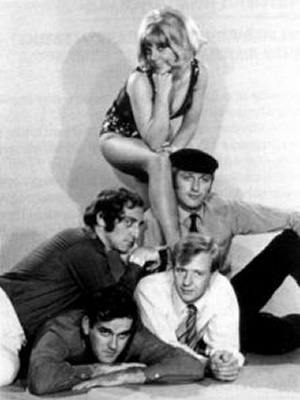 Two hitherto missing episodes of an important pre-Monty Python sketch show have been discovered.
The episodes - the first and last ever of the series - were found in the personal archive of Sir David Frost, who had executive produced the 1967 ITV series.
Starring future Pythons John Cleese and Graham Chapman, future Goodie Tim Brooke-Taylor, prolific writer and actor Marty Feldman, and "the lovely" Aimi MacDonald, two series - totalling 13 episodes - were recorded, but only two were originally thought to have survived.
Subsequent searches have discovered additional episodes held in other private collections, and the new find means 9 of the 13 programmes are now held safely in the BFI archive.
The two episodes have not been seen since their original 1967 broadcasts, on 15th February and 7th November, respectively.
The series is the original home of what has become considered to be a classic Monty Python sketch, The Four Yorkshiremen (written by Brooke-Taylor).
The newly-found episodes also contain what is believed to be the first use of the phrase made famous by Python, "And now for something completely different".
The BFI's Television Consultant, Dick Fiddy, said today: "This latest recovery is a crucial find. It represents a key moment in the history of British television comedy featuring the combined talents of some of its greatest exponents.
"These gifted comedians, all in their 20s and 30s, were let off the leash and allowed to experiment with style and content, resulting in shows which have had an enduring influence on comedy worldwide.
"Even very recently the famous 'Four Yorkshiremen' sketch - which originated on At Last The 1948 Show - was used as the opener for the Python's stage shows at the O2 and had been performed previously by the team in galas such as the Secret Policeman's Ball.
"Cleese, Feldman, Brooke-Taylor and Chapman, created, scripted and starred in the 1948 Show and the fact that the show remains very, very funny 47 years later is a tribute to their extraordinary abilities."
The two newly recovered episodes will be screened at the BFI's annual Missing Believed Wiped event in December.
Five compilation episodes from the programme, made originally for Swedish television, have in the past been released on DVD.
Here is the first of those episodes:
Share this page