Adam Sandler developing Hebburn in America
Adam Sandler developing Hebburn in America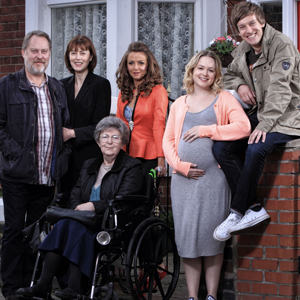 BBC Two's northern-set family sitcom, Hebburn, is being redeveloped in the USA.
The comedy was recently cancelled by the BBC after just two series, but now Happy Madison Productions, the company co-owned by American comedian and film star Adam Sandler, has bought the rights to adapt the show for US audiences.
Sandler's company is now developing scripts with Spin City and Rules Of Engagement writer Tom Hertz and hopes to film a pilot, for the Walt Disney-owned national television network ABC.
Created by Hebburn stand-up Jason Cook, the British sitcom is set in the Tyneside town and followed the Pearson family: dad Joe (Vic Reeves); mum Pauline (Gina McKee); their journalist son, Jack (Chris Ramsey); his young wife, Sarah (Kimberley Nixon); and his sister, Vicki (Lisa McGrillis) - plus Joe's cantankerous, wheelchair-bound mother, Dot (Pat Dunn).
It saw Jack and Sarah - whom he had married on a whim in Las Vegas without telling his parents - forced to move from the bright lights of Manchester to the small town of Jack's youth, and into a small bedroom at his parents' home.
Cook, who also co-starred in the series as Ramsey, Jack's best friend, told the British Comedy Guide today: "This is so exciting, I've known for months so it's been hard keeping to myself, but hopefully this'll blossom into a full series.
"In the meantime, I'm working on scripts involving some of the cast of Hebburn in various roles so, if the telly gods are willing, we can be working together again soon."
The original series was a Channel X and Baby Cow production, co-written with Ideal scribe Graham Duff.
On Friday night, stars Jason Cook, Chris Ramsey, Steffen Peddie and Neil Grainger performed at the second annual Hebburn Charity Comedy Gala, raising money for CLIC Sargent, Cancer Research's Relay For Life, the British Thyroid Foundation, and the nearby Poppleton School of Dance.
Here is a clip from the first series in which Jack and Sarah are struggling living in the small family home:
In the following video, star Chris Ramsey talks about the demise of Hebburn in the UK:
Share this page