Mark Watson and Henning Wehn for World Cup travel show
Mark Watson and Henning Wehn for World Cup travel show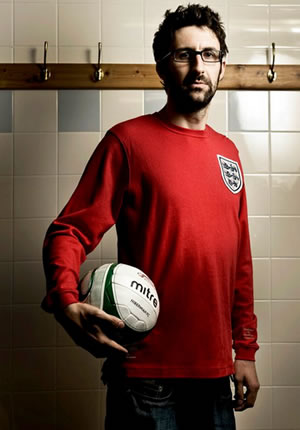 Digital channel Dave is to launch a football World Cup-related travel series starring Mark Watson and Henning Wehn.
Kia's Road To Rio, which will be funded by the car manufacturer Kia, will see football fan Mark Watson and UK-based German comedian Henning Wehn drive through South America ahead of the biggest event in the world's footballing calendar. The factual series will culminate with a final episode in Rio de Janeiro itself.
Running for six episodes, the programme will be produced by factual specialist ITN Productions and follow the comic duo "on their exploration of the countries, people and cultures that the world will come to know so well when the football tournament kicks off".
The production team explain: "En route, they will laugh with football-obsessed locals, face roadside dramas, sample the local cuisine and unique way of life and meet famous football players as they begin to learn what the sport really means to the different people and why the South Americans are so exceptional at the sport."
Filming on Kia's Road To Rio will commence in January, with hour-long episodes broadcast on Dave in the run up to the FIFA World Cup next year. As part of an international deal, the series will be broadcast in over 50 countries worldwide.
As part of the sponsorship deal, each episode will feature Kia branding. This will not be the first time UKTV has been involved in a sponsored programme. In 2010, Toyota funded a TV version of Robert Llewellyn's Carpool interview series.
Mark Watson (pictured) is well known for his football interests. A fan of Bristol City, he has blogged about football and appeared on various sports-related comedy programmes, including
Eurogeddon: Why England Shouldn't Win Euro 2012 and Mark Watson Kicks Off. Watson's brother Paul meanwhile is a football journalist who once took on the task of managing Micronesia, officially the worst football team in the world.
Speaking about Kia's Road To Rio, Dave's Steve North says: "We are sure the Dave audience will be as excited about the FIFA World Cup in Rio as we are. It is great to have Mark Watson and Henning Wehn back on the channel and it'll be interesting to see how their travels around South America unfold."
Commissioning Editor Iain Coyle comments: "The series will offer an exciting insight into the host country of the FIFA World Cup and a fun way for Dave viewers to get ready for the biggest sporting event in the world. We're really excited to be working with ITN Productions and A Brand Apart on this unique project."
Emma Read, from ITN Productions, adds: "This is the football-fuelled road trip of a lifetime celebrating the unique and extraordinary approach to life and football in South America through the eyes of our intrepid duo, Mark Watson and Henning Wehn. ITN Productions is thrilled to be producing this ambitious series in the run up to the World Cup with A Brand Apart for Dave."
Share this page