Still Game to return as a stage show
Still Game to return as a stage show
Story update, 23rd October: The below news has now been officially confirmed, with four dates booked at the 13,000 capacity Hydro in Glasgow for September and October 2014. Hemphill has also confirmed they are holding talks with the BBC about reviving the sitcom for either another series or specials.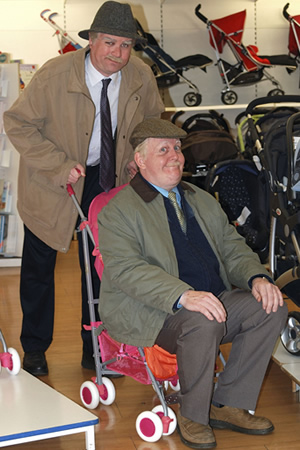 Still Game, the hit BBC Scotland sitcom starring Ford Kiernan and Greg Hemphill, is set to return as a stage show.
The comedy, which follows the adventures of old age pensioners Jack and Victor, started life as a stage show in Glasgow in 1999 before in 2002 becoming a popular BBC TV sitcom which ran for 44 episodes across six series.
Speculation mounted yesterday that a new Still Game project was afoot when the two creators revealed they had set a press conference for Wednesday 23rd October to make a 'very special announcement'. Now, ahead of this announcement, The Daily Record has confirmed the project is a new stage show featuring the sitcom's cast.
According to the report, Kiernan and Hemphill will appear alongside Paul Riley (Winston), Jane McCarry (Isa), Sanjeev Kohli (Navid) and Gavin Mitchell (Boaby).
The Daily Record wrote: "The cast won't announce full details yet but insiders told us the cast will tread the boards in a spectacular live stage production in much the same style as Mrs Brown's Boys." A source told the paper "Next week is going to be an amazing get-together."
Full details will be announced on the 23rd, however a likely possibility is the show will be performed at The SSE Hydro in Glasgow. The large venue, which has just opened, is run by SECC, who handled some of the media relations yesterday.
The news of the new project marks a reconciliation of the working relationship between Kiernan and Hemphill. The duo, who also collaborated together on sketch show Chewin' The Fat, parted company in 2008 due to "creative differences".
Talking last year, Hemphill said of their break-up: "It's kind of sad, really. It reflects the pressure we were under that we never really acknowledged. We rarely took holidays. Stuff like that, it all bubbled up." He also concluded "our friendship was a casualty of the stresses we had together in a sense."
There has long been speculation the characters may return, with Kiernan having previously said of the format "It's not dead. It's just parked." Signs the relationship was repairing between the creators surfaced in July when they gave their blessing to the Sonic Boom Theatre Company to perform one of the scripts for a charity event.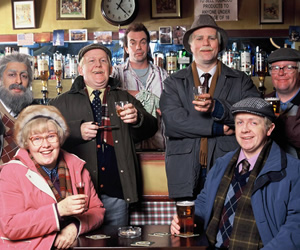 Following the announcement of the press conference 24 hours ago, there has been speculation on social media networks that Still Game would be returning to television, however sources have told The Herald newspaper that there is no plans to bring the show back to television, "at least in the short term".
A BBC spokesman said: "We are awaiting developments from Ford and Greg."
Last week, Michael Hines, who directed the TV series, said in a newspaper interview: "I don't think we finished Still Game at the right time. We left it on that great cliffhanger of Isa and Navid snogging and I know I definitely wanted to know what happened after that.
"So I'd love to give it another bash. There's always a fear about bringing back a sitcom, you wonder if it would still be as loved. Is Rab C as loved now as it was at the time? I honestly don't know.
"But I think Still Game would definitely be loved again. You could argue that everyone loved it, so leave things as they are, or that everyone loved it so there's a massive demand to see it again. Personally, I'd love to make it again."
Below is footage from Still Game Live At Cottiers, the original 1999 stage show which saw the characters Jack, Victor and Winston trapped in Victor's flat due to a broken lift.
Share this page