ITV prank show Off Their Rockers to return
ITV prank show Off Their Rockers to return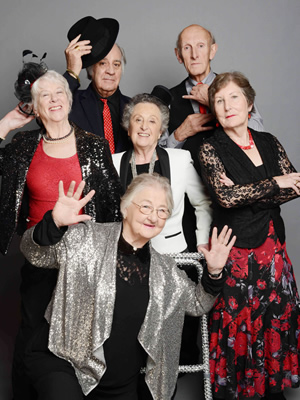 Off Their Rockers, the hidden camera show involving OAP actors, has been given a second series.
The ITV comedy, which uses the tagline "proving that age really is nothing but a number", sees an ensemble cast of senior citizens turning the tables on unsuspecting members of the public in a series of warm-hearted pranks.
Stunts in the first series included a nun causing havoc on a mobility scooter, a parachuting pensioner dropping out of a tree and an OAP getting his wheelchair clamped.
The family-friendly show is based on an international format. The concept was first aired in Belgium and has since been adapted in other territories including the USA, where it was made under the title Betty White's Off Their Rockers. The UK version of the show is made by CPL Productions, the production company behind panel show A League Of Their Own.
Series 1 of Off Their Rockers, which was broadcast in an early evening Sunday slot on the network's flagship channel, ITV, in April and May this year, proved popular with audiences, regularly scoring impressive audience figures of more than 5 million viewers.
Reviews of the show on the BCG message board include "Good-natured, family-friendly, and funny. Unlike some other hidden camera shows, the victims usually really enjoy the joke too, before they know it's a joke." and "I have so enjoyed this and laughed my head off throughout. It also displays the high tolerance of young people to senior citizens which is nice to see."
Famous fans of the show include Sarah Millican, who wrote in The Radio Times: "Off Their Rockers has no victims. Only members of the public being shown how normal and joyful the older lot are. An old man singing a Lady Gaga song or two old ladies asking a group of lads to judge who is the more attractive. The show brings out lovely responses in the public, too."
A new seven-part series will now be made for broadcast in 2014. ITV's Claire Zolkwer says: "The Rockers proved that older people can have just as much - if not more - fun than the rest of us. And it was wonderful to see them have such a positive impact on our viewers. I can't wait to see what mischief they will have in store in series two. Long live the Rockers!"
Below is a clip from the first series, in which a member of the public is asked about underwear:
Share this page