Blandings to return for a second series
Blandings to return for a second series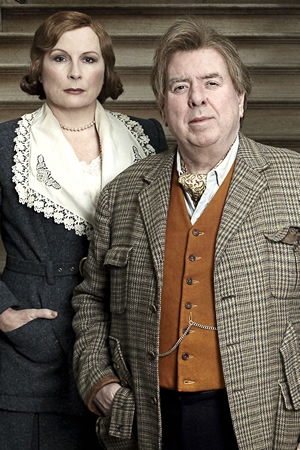 The BBC has today confirmed that is has ordered a second series of Blandings, the period comedy series based on the novels of acclaimed English humourist PG Wodehouse.
Seven more episodes of the show will be filmed later this year, for broadcast on BBC One in 2014.
The main cast are set to return, with Timothy Spall as absent-minded Lord Emsworth and Jennifer Saunders as his fearsome sister Connie. Jack Farthing will also return as Freddie, Clarence's feckless son. However, it has yet to be confirmed whether Mark Williams will reprise his role as Beach the butler.
The first series of the family-friendly comedy was broadcast in an early evening slot on Sundays in January and February, proving a big hit for BBC One with ratings as high as 5.7 million viewers.
The series is written by Guy Andrews, adapted from PG Wodehouse's celebrated Blandings Castle books.
The first series of Blandings featured a number of guest stars, including David Walliams, Jessica Hynes, Robert Bathurst, Sylvestra Le Touzel and David Bamber. The second series is set to continue the trend, with more one-off characters popping up.
Writer Guy Andrews says: "As ever, all Clarence wants is to be left in peace with his beloved pig. But events conspire against him as never before. His incorrigibly rakish brother Galahad is on the prowl with a glittering monocle and a case full of shocking memoirs.
"Other guests and impostors include a voracious Hollywood producer, a dancing saxophonist secretary, a leather-gusseted religious maniac, Clarence's frankly terrifying sister Charlotte and - worst of all - the poker-wielding Duke of Dunstable, the rudest man in Shropshire. Will tranquillity ever reign at Blandings Castle, even for an afternoon?"
BBC executive Kristian Smith comments: "I'm so thrilled that audiences young and old have loved Blandings as much as we do. The capers at Blandings Castle offer us charming family comedy and a truly stellar cast; Timothy Spall and Jennifer Saunders immaculately capture all the joy and spirit of Wodehouse's brilliant characters and Guy Andrews's beautiful scripts masterfully bring the Blandings stories to life. Series two is a real treat for everybody."
As with the first series, the second will be filmed on location in Northern Ireland, at Crom Castle in County Fermanagh. Series 2 will be shown on BBC One in early 2014.
Below is a clip from the first series featuring guest star David Walliams:
Share this page