People Just Do Nothing mockumentary goes to series
People Just Do Nothing mockumentary goes to series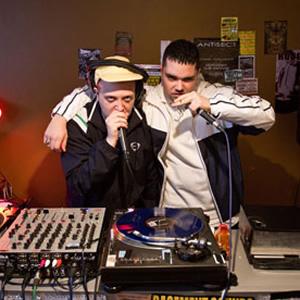 People Just Do Nothing, a mockumentary comedy about a pirate radio station, has been given a series by BBC Three.
A pilot episode of the programme - expected to be renamed for the full series broadcast - was filmed and made available via iPlayer last summer, as part of the channel's Feed My Funny initiative of comedy pilots.
It was the most shared programme on corporation's on-demand service during the month of July 2012, and received a TV broadcast in mid-August.
Now, channel controller Zai Bennett and BBC commissioner Shane Allen have ordered four new half-hour episodes of the show for television.
Written by Steve Stamp and Allan Mustafa, People Just Do Nothing goes behind the scenes of Kurupt FM, the second most popular pirate radio station in West London. It receives 'up to eight texts' per show and plays the finest in UK garage and drum 'n' bass.
Filmed in a mockumentary style, the comedy observes as co-founders MC Sniper and DJ Beats try to build the station's audience and impress the BBC documentary crew that is filming them.
Announcing a number of comedy commissions, BBC Three controller Zai Bennett said today: "New British comedy is king on BBC Three, so I'm delighted to be able to announce that another one of last year's Comedy Feed pilots is going to full series in the fantastic People Just Do Nothing."
Produced by Rough Cut Television, the series will be filmed and broadcast later this year.
As the pilot was a Feed My Funny production, it can still be watched online. It is available to view until November 2014.
A full series of another Feed My Funny format, Impractical Jokers, has already been broadcast.
Share this page