E4 orders Series 2 of My Mad Fat Diary
E4 orders Series 2 of My Mad Fat Diary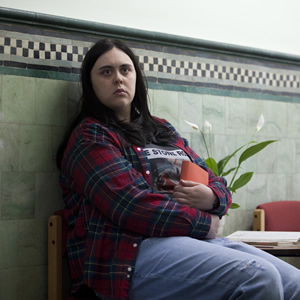 E4 has given the green light for a second series of My Mad Fat Diary to be made.
The comedy drama, which is based on the real-life diaries of Rae Earl, stars Sharon Rooney as an overweight 16 year-old teenager who is trying to make new friends and meet boys after a spell on a psychiatric ward.
Set in the mid-90s at the height of 'cool Britannia', the series is written by Tom Bidwell and produced by Tiger Aspect Productions.
Writing on Twitter, Rooney said: "Yes. It is true. We are coming back for Series 2. Thank YOU for the wonderful support for the show. I'm going to run around! Love you all X"
My Mad Fat Diary has been praised by viewers and critics for being funny whilst also portraying mental health issues in a fresh, accessible and caring way. The Stage labelled the show "a comedy drama that actually satisfies the criteria of both genres", and The Guardian summarised the comic drama as being "smart, sympathetic and hilarious".
The series has been screened on Monday nights, with the final episode of Series 1 due to be broadcast tonight (Monday 18th February 2013). So far, the comedy has averaged just under 500,000 viewers an episode (or a consolidated weekly average of 1.2m, when repeats are included), respectable ratings for its home channel, E4, and with ratings increasing week on week.
The station has ordered six more hour long episodes, which will be filmed this summer for broadcast either late in 2013 or early 2014. The network has confirmed all the main cast members are to return.
Channel 4's Sophie Gardiner says: "Thanks to Tom Bidwell's funny and insightful writing, and Sharon Rooney's stand-out performance as the great Rae Earl, My Mad Fat Diary has captured the hearts of the E4 audience, and we are delighted that the show is returning."
Executive Producer Jude Liknaitzky adds: "'We are beyond delighted to be able to take the stories and characters of My Mad Fat Diary to a second series. We have been overwhelmed by the response to the show and can't wait to bring more of Rae's stories to life. It is a joy to work with the creative powerhouse of Tom Bidwell, Rae Earl and Sharon Rooney."
Below is a preview clip from the Series 1 finale:
Series 1 is out on DVD next Monday. Details and pre-order
Share this page