Tim Vine to appear on Let's Dance For Comic Relief
Tim Vine to appear on Let's Dance For Comic Relief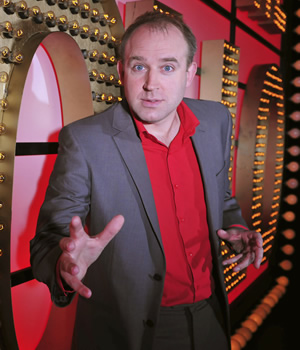 The first details regarding this year's Let's Dance For Comic Relief have been announced.
The BBC has revealed that stand-up Tim Vine (pictured), ventriloquist Nina Conti and impressionist Jon Culshaw will be amongst the contestants taking part in this year's charity dance contest.
The format, which has switched between supporting the biannual Comic Relief and sister Sport Relief events each year since its inception in 2009, has proved immensely popular with viewers and a good way of raising funds for the charity.
This year's series kicks off on Saturday 16th February and will span four weeks: three 'star-studded' Saturday night heats, culminating in a grand final on the 9th March, ahead of Red Nose Day on Friday 15th March.
The full line-up has yet to be announced but it is known that boxer Ricky Hatton will also take part, whilst the rotating judging panel will once again include comedians such as Frank Skinner and Jo Brand.
The show will be hosted by Alex Jones and Steve Jones.
Alex Jones says: "I'm ridiculously excited to be back on Let's Dance. We have some of our best comedians as panellists, and an unbelievable line-up of brave celebrities who are all prepared to don their dancing shoes to raise lots of money for this year's Red Nose Day. Earlier this year Steve and I went out to Malawi to visit a number of projects funded by Comic Relief, and we can't wait to get stuck in, knowing that the money raised this Red Nose Day will go towards helping families in Africa and in the UK that desperately need it."
Steve Jones added: "It's still the most fun I have on TV, so I am ecstatic Let's Dance is back with a whole host of famous faces along with famous arms, legs, necks and fingers all attempting to dance for our viewing pleasure!"
Kevin Cahill, CEO of Comic Relief, commented: "We are delighted that Let's Dance For Comic Relief is back for 2013. We've had some fantastic winners in the past - Robert Webb, Rufus Hound, James Thornton & Charlie Baker and Rowland Rivron - and we've got another great line-up of celebrities competing in this year's show. We're confident that once again viewers will get behind the show and help raise a life-changing amount of money for people living incredibly tough lives both here in the UK and in Africa."
Other Comic Relief events are to include Dara O'Briain and Jack Dee paddling up the Zambezi River; Mark Watson hosting a 25 hour-long live show in London; and Graham Norton presenting a special multi-hour version of his chat show.
Here is footage of some of the celebrities, including O'Briain and Dee arriving in Zambia for their challenge:
Below is Robert Webb's winning performance of What A Feeling from the inaugural 2009 series:
And here is footage of Miles Jupp, somewhat out-of-character, dancing to The Prodigy's Firestarter during last year's series:
Share this page