Ahead of Series 3, Murder In Successville star Tom Davis and rookies Richard Osman and Martin Kemp took part in a Q&A event. Here is what was said:
How fully in the deep end are the Rookies in each episode?
Tom: Completely. Obviously we have an amazing production team but we're in the third series now so people know what they're coming to do. We had to try and push it a little bit more and try and be a bit more ambitious. But the Rookies have no idea what's going on at all.
Martin: On the first day they don't just not give you a script, they don't even let you see the set you're walking into until the very first moment!
Richard: Yes, you get blindfolded when you walk between the sets.
Martin: And I remember at the end of the first day I was so confused by the whole thing that I went to bed that night and I had a dream that I was in a lift with Tom and we were hanging over the top of the O2 spinning around and around in free fall because I never knew what was coming or going.
I'm so used to being in a drama, or something like that, where you have everything planned out. To be amongst people that know their lines and you're the only person that doesn't is just bizarre. I laughed all the way through it, and I'm surprised that we got any bits where I wasn't laughing.
I would recommend this experience to anybody. There's not many jobs where you go home and are still smiling. And to be able to go home and share the stories with my wife and tell her what I did throughout the day and have her laugh as well is just a dream.
Richard: Martin's right. It's the single most unusual thing I've ever done and also the most fun. To be fair, I don't know what being in Spandau Ballet was like, because I was only in them very briefly, in the late 90s, but it was such a laugh, mainly thanks to this man [Tom Davis] and also an amazing team. I enjoyed it so much and I thought, "the second I've finished this scene, that scene's over and I'm never ever going to do it again."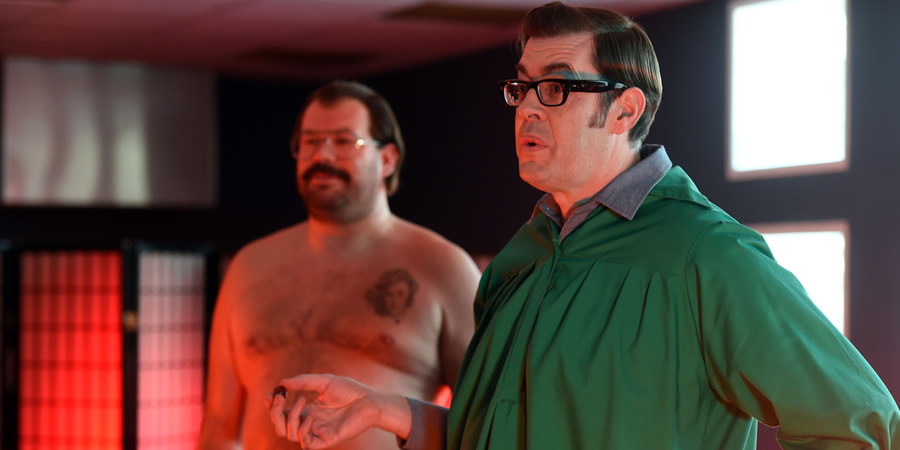 So you film for two blocks, of 12 hours?
Tom: Yeah, two back to back days. They're long! I mean, credit to these guys for coming and not knowing anything ahead of time. They've got to take in all the information at once and they've got to know enough to know what's going on. I'm always bowled over by the people that come in to do this show as Rookies. It means the world to me.
Richard, you were quite forensic in the detail of your analysis of the murder in your episode.
Richard: I was very keen to solve it, that's for sure. I was pleased because my grandfather was a police officer and I always wanted to be one too. This to me was almost a test to see if I could do it. I'd be one tomorrow if I wasn't wasting my time being a TV producer. I'd love it. When you're walking down the street, there's only two things that stop people and that's a film crew or a police car. I do the film crew bit, but I'd love to do the police car bit. I'd love to do it.
Tom, what about the idea for the show in the first place, where did that come from?
Tom: I think it was Avril Spary who first came up with the idea of doing the sort of murder mystery thing and she and Andy Brereton were kind enough to get me on board and it's just grown from there really. Sometimes there's a limit of what we can do and James De Frond, the director, and his team make it look incredible. It's taken on this weird, wonderful, dark, Sin City-esque vibe.
How challenging is each episode for you, working with a different partner, and not knowing how they're going to react to situations?
Tom: We have so many actors and crew members, that's the thrill of it really. You never know. You come into every episode from the 'Gordon Ramsay scene', in DI Sleet's office, and then up through until the end. Richard was nothing like I'd thought he'd be and neither was Martin and it's a challenge, but it's one that is a complete and utter joy. But it can be a bit tough when you're trying to get some information across and that person is a lot cleverer than you and is correcting a lot the words. I'd like to pretend that was me, as an actor, getting words wrong in Richard's episode... but that was me as a human being.
Richard: And that comes across, and that's why TV has to be organic and from the first episode I absolutely loved it. And that's why it's people's favourite show; because they see people really, really enjoying themselves.
Tom: It's so much fun trying to get a reaction. I remember being a stand-up, there isn't anything as fun as trying to make people laugh. And people at home love it when Richard Osman, Martin Kemp, Lorraine Kelly and all of the Rookies start corpsing. It's really joyous.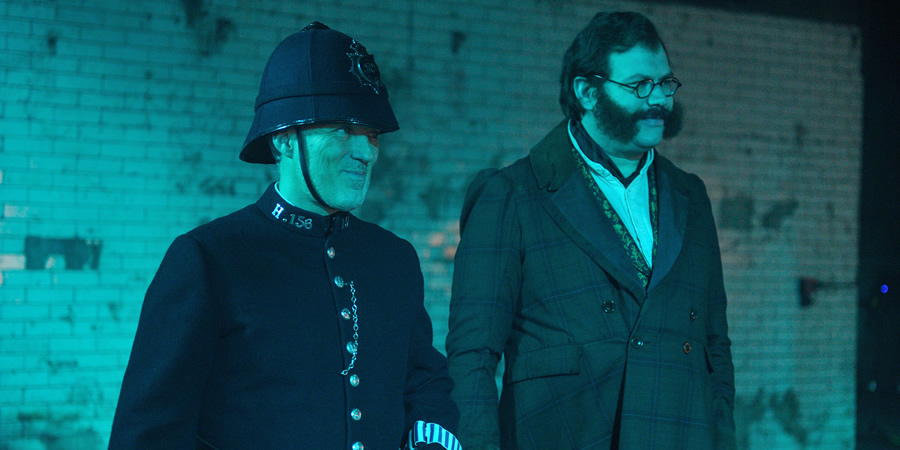 There's obviously a lot of improv, but how much is scripted? How many beats do you know you have to hit? How many lines do you have to remember?
Tom: We're strict on the beats. We always have a focus of: 'this is where it's going to start and this is where it's going to end'. There's always a script, but there's times where these guys [the Rookies] come up with something that completely goes off in another direction and it becomes a whole different beast. Like a scene with Richard; I mean all of Richard's scenes go on for so long, it does become a drama...
And, when you're in the scenes, do you interact with the actors beforehand?
Tom: We try and keep them [the Rookies] away until it wraps. There's a side of me that doesn't want to spook them out too much, sometimes I'll have a chat, sometimes I'll walk away a bit, but I think the actors sort of stay in character really right until the end. It's exciting and the actors want to chat and meet the Rookies, but every member of our cast is so professional - they're incredible. Honestly, I'm massively supported by them. They are the ones holding it together.
Martin: The quality that surrounds you is incredible. They are the best actors and the best technicians. Some of the CGI that is used is absolutely fantastic. It's first class quality all around you and you're in the middle, trying not to mess it up. I think, to be honest, when I was watching it back, that was the most I've sort of been me on screen. You're normally always playing the part, but in this, I actually saw what my kids see when they're at home.
Was it all filmed in the same place, a single location?
Tom: Yes, for Martin's, being the special one [set in Victorian times], we moved locations but otherwise James [the Director] and the guys basically build a city and you go around to all these rooms. Everything's like four walls and you sort of go into this new environment and then the Rookies can move around it. The set and the extras are a pretty integral part of it. But it was all in one location. This year Successville was in Dagenham and it was lovely.
You say that some scenes take hours to film, would you ever be tempted to make a feature length episode, or a movie maybe?
Tom: That's the next thing. I think we've worked out a way of doing it as a feature length film. There's been quite a lot of interest with just the style of what we do, with improv and corpsing, so it's a difficult one. This series was incredible. It was so much fun upscaling and building it so it's natural to start looking to what the next step is.
We're all ambitious. We try to not stand there and go "well that's worked", but instead we try to grow it. So, I think the next thing would just be trying to add to that really and make it bigger and crazier. Bring it all back... serial killers... explosions... But like I say we're all very ambitious and think that there's a way of doing it for over an hour.