We sat down with Sick Of It co-writers Richard Yee and Karl Pilkington (the latter of whom also stars as the sitcom's protagonist) to find out more about the second series of their show...
Sick Of It is a scripted comedy series that sees Karl Pilkington in two roles - himself, and the voice inside his head, both played by himself - as he muddles through the mundane life he may have led if he hadn't met Ricky Gervais and Stephen Merchant.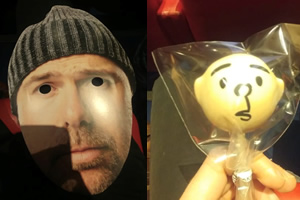 Upon arrival at the swanky London hotel chosen for the occasion, abundant lollipops and face-masks in the shape of Pilkington's face were distributed to all invited guests.
It was an outlandish, light-hearted touch that really set the tone for the day, well in keeping with the feel of the sitcom, in which Karl's face - either himself, or his Inner Voice - is omnipresent, appearing in nigh-on every scene.
What can we expect from Series 2?
Whereas Series 1 followed crotchety cabbie Karl's break-up from his long-term girlfriend Zoe, causing him to subsequently move in with his elderly Auntie Norma (Sondra James), Series 2 introduces new character Ruby (Marama Corlett), a young, spirited carer who somewhat usurps Karl's role in the home.
When it came to casting this role, Richard explains: "We wanted someone with a completely different energy to Karl, with a strong character and a spark. Marama Corlett felt so different to everyone else we'd seen". Karl noted that although she was nothing like what he had had in mind, she was so good that it was a no-brainer to offer her the role.
She fit the tone perfectly, which Karl describes as "not going for laughs and all that, but being naturalistic, telling a story". With the arrival of the energetic, fun-loving Ruby into Norma's home, Karl poignantly struggles to come to terms with this new dynamic. Is there space for all three of them in such a small house?
They allowed "a teeny bit of hope and optimism into his world... even if everything goes wrong!" Because, of course, there's no one more positive than Karl Pilkington, right!? You may laugh, but he's adamant that he's far more positive than most people assume. Plus, his character's connection with Ruby in Series 2 offers a ray of sunshine amidst the melancholy. After all, as Karl tells us, "everyone likes a love story".
Richard Yee explains that whereas Series 1 showed a "grieving", "depressed" Karl, "never moving forward", in this second series they wanted him to be "a bit more front-footed... he's got over Zoe enough to do something with his life".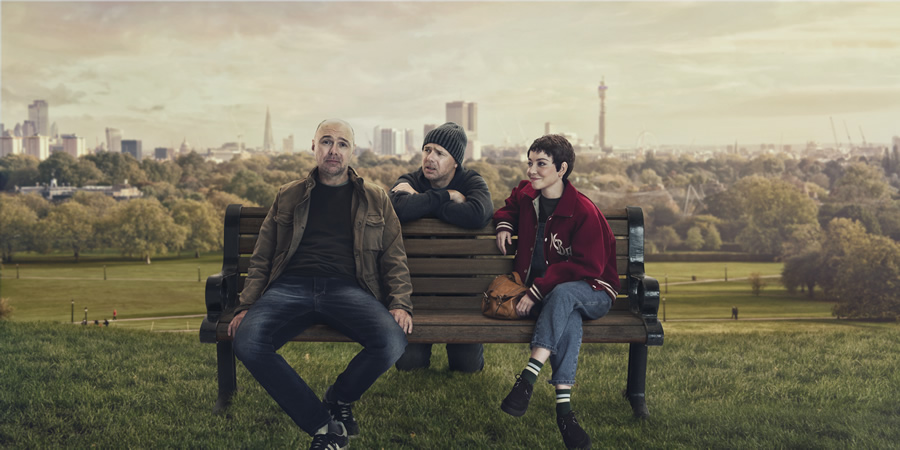 Writing the sitcom
So, did Richard and Karl feel more confident and experienced going into Series 2? Not at all. Karl claims he's just "not a confident person, which I think is the best way to be in a way." If you're never satisfied, he believes, "you make a better job of something, because nothing's ever good enough." He was constantly revisiting and rehashing the scripts to make them as solid as possible, finding the process both arduous and rewarding.
The unscripted nature of his previous travel shows - An Idiot Abroad and An Idiot Abroad: Lost Luggage - meant that "you go away, record some stuff, and Richard makes something out of it", but with Sick Of It he is constantly preoccupied with doubts over whether or not to tweak and modify his scripts. "You're looking at everything, wondering if it makes sense".
Once we had been treated to a screening of two episodes from this second series, Pilkington noted that he was surprised by the audience laughter: "It got on my nerves. It's not meant to be that funny, really. I don't see it as a comedy". Richard appears to agree, noting that in An Idiot Abroad and much of the other work Karl has been involved with, the comedian didn't actually realise that he was being funny: "We just try to tell his character story, and he naturally expresses his anxiety in funny ways".
Sick Of It retains a cynical, pessimistic undertone, although this second series hints at a brighter future.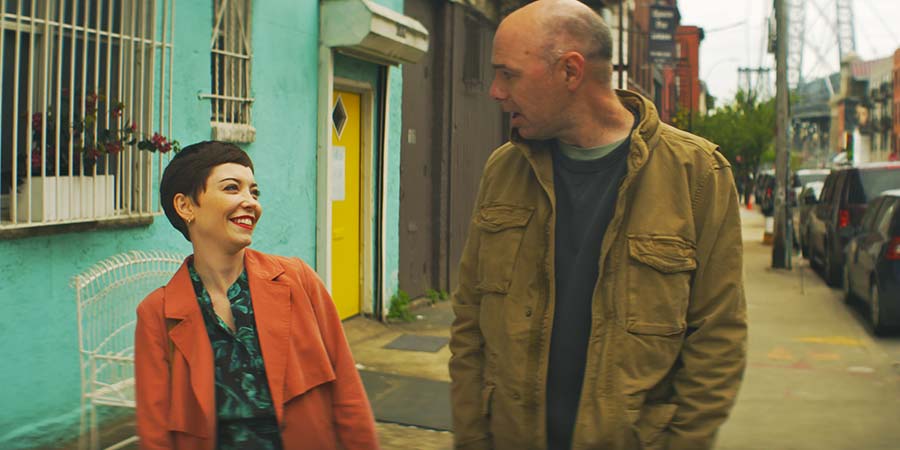 Autobiographical?
In our interview, Karl explains that all the episodes are based on his "little insecurities in life... it's having a place in the world". Although he himself has never had to live with his auntie and then feel gradually replaced or shunted out, he told an amusing story of when his partner Suzanne hired a cleaner ("because we've got a bit more money now"), despite the fact that Karl felt quite happy doing most of those household chores on his own. "It's that feeling of not feeling good enough", Karl asserts, which is what Sick Of It Series 2 explores so carefully. (He clarifies that they no longer have the cleaner!)
In a broader sense, he is puzzled by this notion that, as one becomes more successful and earns a little more money in life, it becomes increasingly easy to "slip" into neglecting these sorts of menial tasks. Instead of going about the daily routine, people think, "I'll get a cleaner, get a gardener, get a window-cleaner". But, Karl explains, "You can't have fun non-stop! I like those little times, cleaning, working, etc... It's when most of my ideas come, that moment of zen. People try to take all that out of their life, I don't know why. You need that sort of calmness, not this "let's go out, let's do this, let's go there". We've got enough to do!"
It's this sense of finding joy and peace in the little things that makes Sick Of It an understated yet quietly profound work of comedy.
This new series features an episode about a meal voucher that has expired, and the character is annoyed because he cannot understand how a piece of flimsy paper has 'run out'. It's a piece of paper: it doesn't have a use-by date, it doesn't 'go off'. Karl again: "That scene is just a sort of moan, and the episode is all to do with how time has whizzed by really fast, and you're not realising that a year and a half of your life has gone by".
So does Karl find it cathartic to tease out every single one of his apprehensions, or does it frustrate him even more to be unfailingly wrestling with them? "You gotta get it out. If you're not happy, have a bit of a moan. It's healthy. That's where confession boxes come about, and Twitter, all that. It's all about letting your anger out."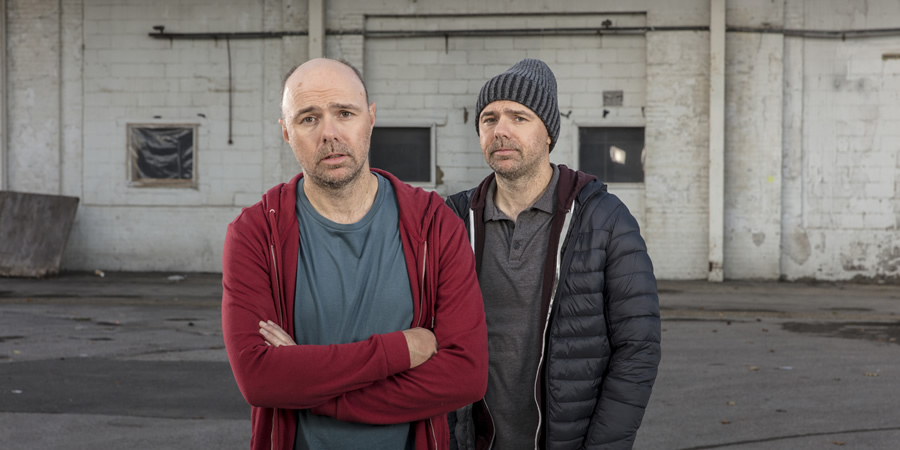 Inner Self
The Inner Self of Karl (the uncensored version of himself who just won't keep quiet, also played by Karl) is unique to the show. So was it hard logistically? "A pain in the arse", he notes, confirming that they film whichever 'Karl' is talking first, and most, in one particular scene, and then go back to fill in the gaps.
Occasionally the second Karl will gesticulate too wildly, or have one hand or arm 'out of place', thus breaking the continuity of filming, and therefore in many scenes Karl played his Inner Self with his hands firmly glued in his pockets!
Given that the show's central USP is its internal monologue, it must be tricky for the real Karl Pilkington to tackle his own inner thoughts all day long. Does his internal monologue in effect have its own internal monologue by this point, revolving in circles of conversation and undermining him constantly by suggesting his material isn't good enough? "That happens, definitely. That's what it's all about. It's that thing of, 'This isn't good enough', that thing looking over your shoulder."
But he thinks this constantly self-questioning has a positive side, too. "People say, 'Just be spontaneous. Don't think about it.' No! F***ing think about it! You can't just wing it. You should think everything through! You don't wanna piss people off, but at the same time you gotta do what you believe in."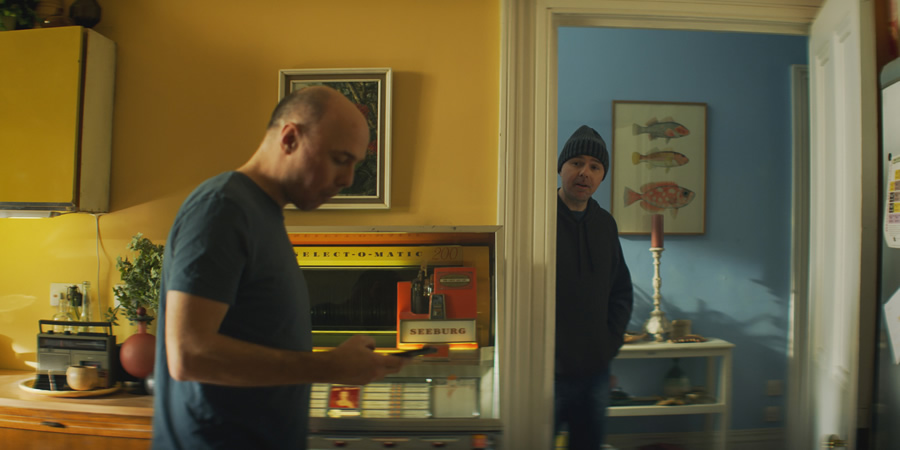 Karl, the actor
Richard tells us that they initially went through several different versions of Sick Of It, before settling on the sitcom as we know it today. In one, Karl was in a long-term relationship, and another was more of a family-based affair. Eventually they whittled it down to the voice in his head, and gradually "got rid of everyone else", leaving just the good and bad angels of his soul.
Karl did not want to be in it originally, but Richard "kept chipping away", and eventually ground him down, catching him on a good day by saying such things as "That sounds like something you'd say" when they came across a particularly well-written moment!
So would Karl be interested in more acting in the future? Apparently Shane Meadows (who made This Is England, amongst several other films and TV shows) is a huge fan of Sick Of It and wants to meet him... so who knows?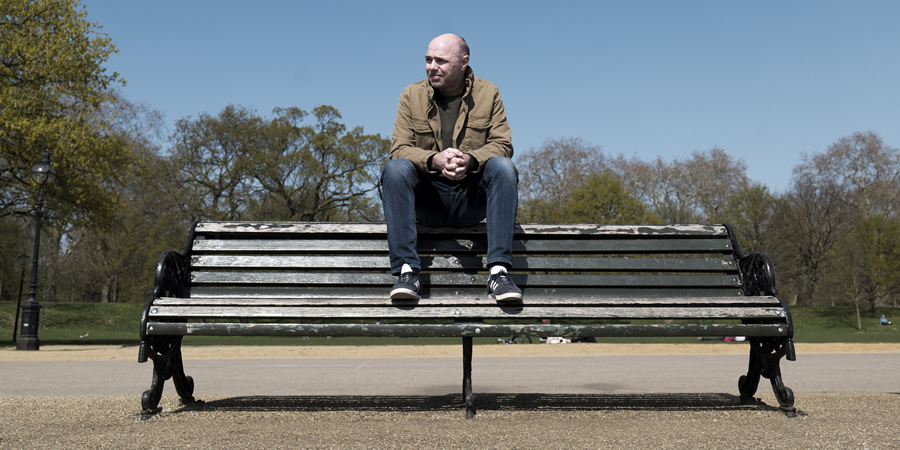 A comedy of hopelessness?
In one episode in this second series, a wretched Karl buys episodes of Vic Reeves Big Night Out in a desperate - and ultimately failed - attempt to find some stimulus for laughter. So is this borne out of frustration with supremely optimistic, end-of-the-pier, laugh-a-minute, song-and-dance comedians? And how would he define his own brand of humour?
"I don't really watch that much comedy. I like documentaries". But he does mention Upright with Tim Minchin: "That sort of tone, where you're not just watching it for a laugh. It might be miserable, but it sucks you in, and I get more enjoyment out of that line [of comedy]. Kes is my all-time favourite film - there's not many laughs in it! But I lean towards depression."
Both Richard and Karl wax lyrical about how many first edits of the episodes in Sick Of It were significantly funnier than the finished versions, but they cut those moments out. In Richard's words, "We felt we didn't need a more jokey version, it didn't feel right. We rewrote it, to make it more emotional."
Karl even told us that one episode in Series 1, which centres on loneliness, sparked such a reaction in its viewers that many people wrote to him to say "I really relate to that", "I know where you're coming from", "When I'm like that, people don't understand me". Karl seemed genuinely moved by these comments, adding "That's better than someone going 'LOL'".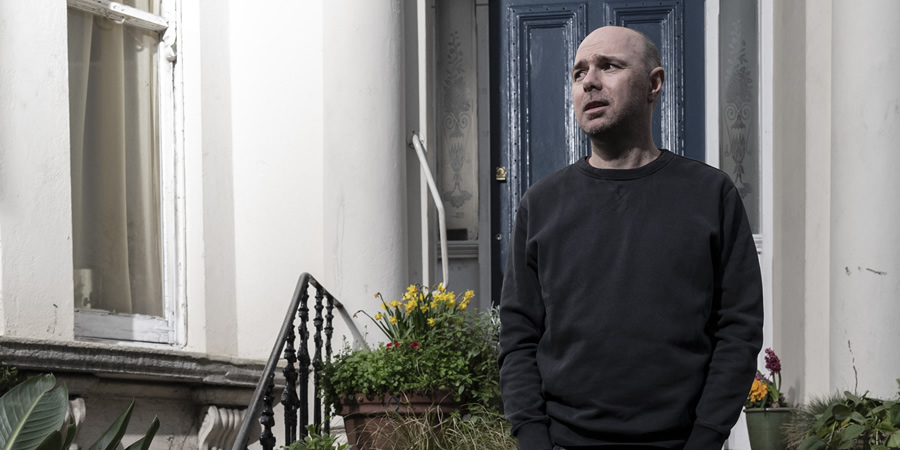 He knows the reaction to Series 2 will be a "mixed bag", because Sick Of It is a comedy rooted in a miserable man who binges on biscuits (Richard and Karl clarify that several packets were consumed during filming) and engages in an extended bout of soul-searching about how little he has achieved in life. But it's these authentic audience connections, focused on the everyday boredom of life ("muddling through", as Richard puts it), that make the show what it is.
As Karl observes, a joke might look hilarious on the page, written one day in one mood, but you might read it the very next day and think, 'Really?' "A joke isn't gonna keep making you laugh. It's tricky... because you're gonna get sick of it." An appropriate pun, we feel, for a show about a forlorn cabbie who reluctantly learns, through the inevitable peaks and troughs of life, to endure.