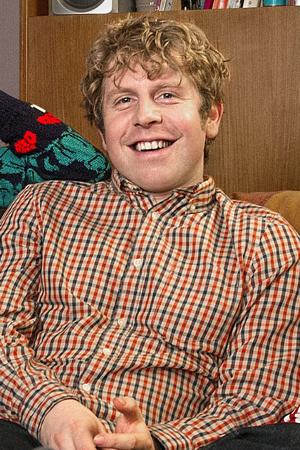 Josh Widdicombe talks to BCG about his new sitcom...
Congratulations on getting your own sitcom. It has your name in the title and everything!
Thanks. It doesn't feel real. It's bizarre. Obviously, I never set out to sitcom with my name in the title... but I've always wanted to make a sitcom, and then we couldn't think of a better title and so that's how this came about.
I don't know how I stumbled into this situation but I'm going to make hay whilst the sun shines!
I was really into comedy when I was a teenager. I think the 1990s was an amazing time for British comedy. With things like The Day Today, Alan Partridge, and Father Ted on it was a great time to watch British comedy, and that's when I got into it.
I never really thought [at that stage] I desperately wanted to be a stand-up or anything - I wanted to try different things, and a sitcom was definitely top of that list.
Your character in the sitcom finds himself in some embarrassing situations. Hopefully you're not the same as him?
I think it's my stand-up persona, in a sitcom.
I think my stand-up persona is pretty close to me... I like to think he's more of a loser than I am, but he's certainly a version of me. I'm not playing against type - I don't have the acting ability to play too far out of type.
So, I guess it's an exaggerated version of me. In Frank Skinner's book he talks about a comedy persona being 'you with some bits turned up to 10 and some bits turned down to 1'... that's kind of what it is I suppose.
This is your first major acting role. How did you find it?
I really enjoyed it. David Schneider was brilliant as a Director, making you feel comfortable and giving you confidence... as I didn't really know what I was letting myself in for.
So I really enjoyed it but obviously Elis, Beattie and Jack [co-stars Elis James, Beattie Edmondson and Jack Dee] are all such great people and mates that it made it a very happy place to work, so I didn't feel totally pressured.
But I'm not seeing this as my dipping the toe into 'the career I've already dreamed of'... I'm primarily a stand-up comedian still.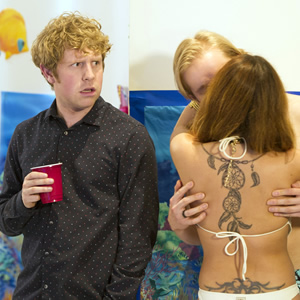 On top of Josh, you'd be up for writing more sitcoms presumably?
I really loved making it, and I can't imagine going 'well that's the last time I'll have a go at sitcom', but I don't necessarily think if I wrote another sitcom I'd be in it.
I'd love to write a sitcom for - well, for instance any of three of the actors I've worked with. I'm not like going 'I have to be centre stage', I'd just as happily write something for someone else.
Writing a sitcom takes a lot of time. How did you fit it in amongst all your other work?
It was insane. There were days when we were filming The Last Leg where we'd do a day on that and then me and Tom Craine, who I wrote it with, would stay in The Last Leg office and work on the sitcom 6pm to midnight.
It was kind of a thing where you go 'this is your one chance to do it'... it's not like a panel show where you can go 'well, OK, I'll just try and riff it'. You can't do that with a sitcom. You put a lot of pressure on yourself to make it as good as you can.
If you're not doing that amount of work on a sitcom you're obviously a lot more talented than I am, because I don't know you would have done it without dedicating your life to it.
Your career is going very well. What percentage of the population do you reckon knows who you are now?
That's an interesting question. Um.... some people that come up to you won't know your name. If it was "that guy off Mock The Week I'd say 25%, and if it was knowing my name I'd say 5% to 10%. I don't know? What do you think? I think this question probably says more about how you see yourself as person.
It's probably higher than 10%. Interesting you're best known for Mock The Week. Wouldn't it be The Last Leg now?
It's kind of a shorthand for people to say 'comedy panel shows'... Before I'd even done Mock The Week people would come up to me and go "you're the guy off Mock The Week. You go "well, you probably mean 8 Out Of 10 Cats or something..."
That's why I used that phrase, but yeah maybe now I'll be known for The Last Leg.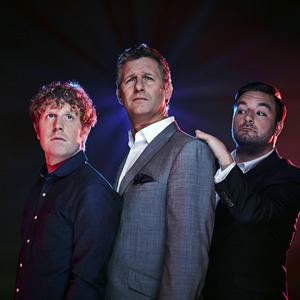 The Last Leg is hugely popular now...
I didn't sign up for this! I signed up for a 10 day Paralympics show. I thought "I'll get some free tickets to the Paralympics and no one will watch it... what a nice little job". Before I know it, here we are!
I think that's why it's a success though, because it had time to find its feet, it wasn't trying to be a big hit. It was just trying to be a good show. And it just allowed us to build a show that, if you pitched it now, you couldn't. It's a bizarre mix of stuff, but somehow it works. It think it's mainly down the chemistry between Adam, Alex and I... it's the key thing people like.
Talking of your co-hosts, they did impressions of you during the last series (video)...
I'm alright with that. I'm quite easy to do an impression of. On my DVD, for an extra, I got a load of comedians to do an impression of me, so seemingly I am a trope of the comedy scene. Which I suppose is a go thing, in a way, as it shows you've got your own style. But you don't want to be a pastiche of yourself!
You've just filmed some specials in Australia?
Yeah, we've just been to Australia for three weeks filming a kind of travelogue - down under, through the outback - which was interesting. We've got another series of The Last Leg starting in February too. In the meantime I'm on tour, all around the country.
You're constantly working. No time for a break?
I've got a holiday of 10 days. I'm off to Sri Lanka. It is a holiday! I'm not planning to retrace Romesh Ranganathan's steps!
'Josh' starts on BBC Three on Wednesday 11th November at 10.30pm.
For details of Josh's live tour visit www.joshwiddicombe.com