Following in the footsteps of Spitting Image and 2DTV, Headcases is ITV's latest topical satire.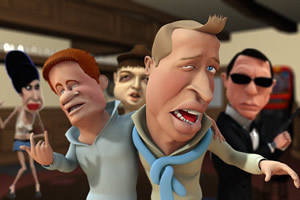 Using groundbreaking 3D computer animation techniques, Headcases takes a biting, satirical look at the worlds of celebrity and politics, reflecting 21st century life in all its topical glory. Cheeky, irreverent and with plenty of jokes, few famous faces escape the sardonic pen of the writing team, which is led by Headcases creator Henry Naylor.
The celebrities featured range from British household names to Hollywood A-listers with Amy Winehouse, The Beckhams, Pete Doherty, Brad Pitt, Angelina Jolie, Jeremy Clarkson, Madonna, Piers Morgan, Heather Mills McCartney, Katie and Peter, Tom Cruise, Katie Holmes, Bono and Trevor McDonald all taking centre stage.
Politicians, royals and sporting figures also on the sharp end of the Headcases pen include Princes Harry and William, Gordon Brown, George Bush, David Cameron, Vladimir Putin, Robert Mugabe, Nicholas Sarkozy and Fabio Capello, among many others.
In the parallel comedy universe of Headcases, familiar faces get to appear in absurd and surreal surroundings thanks to the magic of animation. During the series, Princes Harry and William are just bloody normal blokes actually, Amy Winehouse launches her own perfume 'A Hint of Bin' and disaster strikes for Katie and Peter when they run out of stories to tell the gossip magazines. Meanwhile, Dames Helen Mirren and Judi Dench are the ultimate chavs. Rude and very lewd, the Dames treat every night like a hen night, travelling everywhere in a white stretch limo showing off their 'lady lumps'.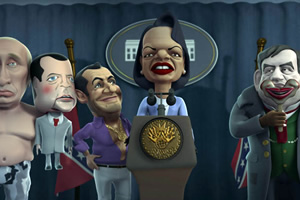 Created in association with the BAFTA award winning animation company Red Vision, each episode of Headcases is completed close to transmission, featuring running sketches with a topical twist. Each of the 60-plus celebrity alter egos have been created with painstaking detail and exist in a world of visually stunning digital locations and situations. This gives the show endless opportunities to fondly send up celebrities and politicians alike.
Writers include those from some of the UK's most popular and best loved shows including Little Britain, Harry Hills's TV Burp, Have I Got News For You and, of course, Spitting Image and Dead Ringers. Meanwhile the characters are voiced by a who's who of top vocal actors and impressionists. Those lending their voices to the comedy include Rory Bremner, John Culshaw and Fonejacker's Kayvan Novak.
ITV Controller of Comedy Saurabh Kakkar says: Every aspect of this show is cutting edge, from the stunning animation to the exciting new voice and writing talent. But most importantly, it's very, very funny and has real bite. There's nothing like it on television anywhere in the world which is a real tribute to the skill of the team.
Creator and Director of Headcases Henry Naylor continues: I'm not sure who the headcases are in this show: the celebrities we're taking the mickey out of or us, for attempting such an ambitious project. We have re-written the rules of animation and comedy sketch-writing and the techniques we've used are genuinely ground breaking. Basically, Headcases is Cartoon-Time for adults, starring all your favourite celebrities. Where else can you see Piers Morgan being crushed by the Titanic or Amy Winehouse being used as an octopus sanctuary?
A guide to some of the regular Headcases characters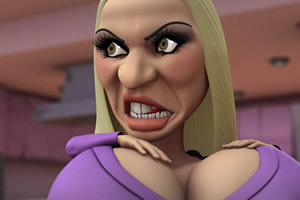 Katie Price and Peter Andre
You name it, they've revealed it to the papers. But disaster strikes when one day they run out of things to tell us about themselves...
Heather Mills McCartney
The snake-haired witch will go after anyone or anything with money. She's so tight that she'll run after 5p - even though she's got millions in the bank. Well, she shouldn't be expected to travel 'B Class' now should she!
Dames Helen Mirren and Judi Dench
The ultimate chavs, Dames Helen and Judi treat every night as a hen night in a white stretch limo. It's The Dames as you've never seen them before.
The Beckhams
Victoria wants to be an actress, fashion designer, and maybe President of the USA. Hubby David just wants her to stop bending his ear.
OAP Action Heroes
Still starring in action films, Harrison Ford (aged 65), Sylvester Stallone (aged 61) and Bruce Willis (aged 52) refuse to retire. But how tough can you be armed with a zimmer frame?
Piers Morgan
Each week, Piers meets a satisfyingly horrible end. Will it prove to be his most popular screen appearances to date?
Russell Brand
Headcases explores 101 Inappropriate Jobs for Russell. How about the speaking clock? Forsooth!
Bono
Having solved third world debt, Bono tackles injustices closer to home - like why do supermarket pears never ripen?
Gordon Brown
It's not easy being popular when you're a dour, dusty Victorian and your predecessor was Teflon Tony Blair. Our jowly leader lurches from one disaster to the next aided by cringing cabinet members Alistair Darling and Jacqui Smith.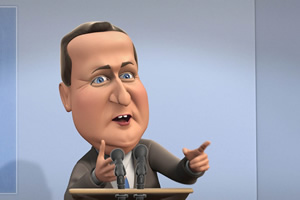 David Cameron
Crikey, it's the Tories! Cameron wants us to believe the Tories are no longer the nasty party, but behind closed doors, it's still more like an Etonian old boys club than ever. Bullying toff David concocts ways to persuade the public to like him while looking down on pint-drinking Northerner William Hague and giving painful wedgies to George Osborne.
Nick Clegg
Liberal Democrats leader and new kid on the block Nick will try to find new ways to woo the voters - like showing them cool tricks with peanuts.
Robert Mugabe, Down on Bob's Farm
Mugabe, with a West-Country accent, has taken over Zimbabwe's farms and turned the bread basket of Africa into a basket case. Here, Farmer Bob shares his expert farming tips, like how to plant prawns and knowing which season to shear your pigs.
Nicolas Sarkozy
The French President, a 'legendary lover and occasional politician' wows us with some of his sexiest dance moves.
Vladimir Putin and Dmitry Medvedev
Russian supremo Vladimir Putin tries to prove the new President Medvedev definitely isn't his puppet.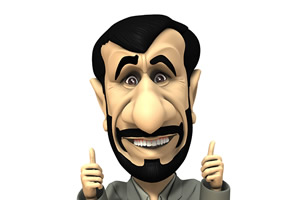 President Ahmadinejad of Iran
The Iranian President makes a number of heartfelt pleas to the West to allow Iran the nuclear materials they need. It's all for perfectly innocent reasons, like building nuclear-powered hoovers and glow-in-the-dark watches.
Princes William and Harry
Wills and Harry are 'Bloody Normal Blokes'. The Princes are convinced they're no different from the general public. After all, doesn't everyone's trip to the pub involve drinks with the England rugger team, jamming on the piano with Jamie Cullum and then leaving via the back door with your bodyguards?
Frank Lampard and Steven Gerrard
Whether it's kicking a football, shifting a piano, or trying to sing a duet, Frank and Stevie struggle to work together as a team.
Fabio Capello
Fabio knows exactly how to get England playing in a way that will make them the world's best. He just needs to find someone who can translate that into English for Terry, Scouse for Gerard and Orc for Rooney.