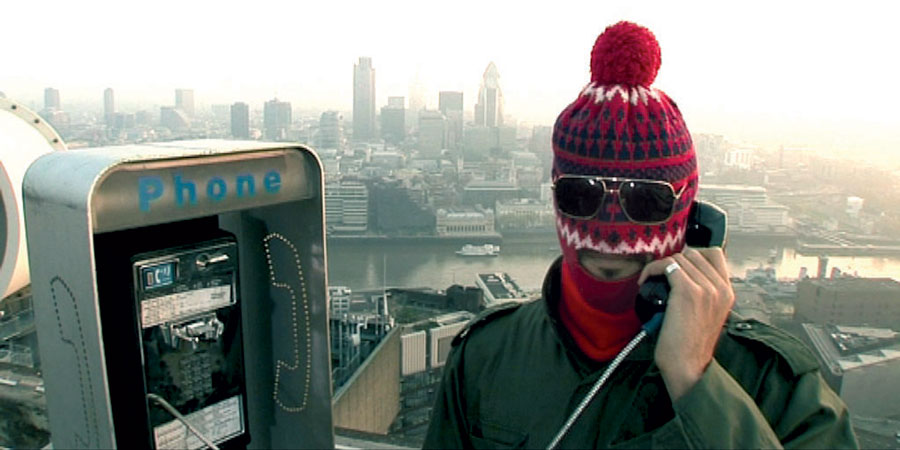 Genres

Sketch Show, Prank Show

Broadcast

Channel

Episodes

Creator

Star

Writers

Kayvan Novak and Ed Tracy

Directors

Kayvan Novak and Ed Tracy

Producers
The Fonejacker (Kayvan Novak) is a man addicted to prank calling. He takes on various guises to satisfy his need to scam and confuse those on the other end of the phone. His identity is protected by a unique disguise - a red bobble hat.
Mostly, as viewers, we only get to hear the audio recording of the call - animation is used to add a visual dimension. However, sometimes we do get to see footage of the victim taking the call (which, in most cases, has been filmed through a shop window with The Fonejacker standing around the corner making the call)
Characters include African scamster George Agdgdgwngo, wheeler dealer geezer Terry Tibbs and Mr Doovde, a man who struggles with acronyms.
Tagline

fonejack: to seize control of a telephone conversation by farce esp. to divert it from reason and logic

Production company

Laugh track

None
Broadcast details
First broadcast

Tuesday 9th May 2006 on Channel 4 at 11pm

Last new broadcast

Thursday 6th May 2010 on Channel 4 at 9pm

Last repeat

Saturday 3rd August 2019 at 12:30am on 4Music
Website links