Known to his millions of fans as Mr Tumble and the presenter of CBeebies' Something Special, Bafta winner and MBE Justin breathes life into many madcap new characters in Gigglebiz.
Controller of CBeebies, Michael Carrington, says: "I thought it was time for a proper comedy sketch show for children and Justin is the perfect man for it. He's got such a gift for comedy, writing, slapstick and inventing silly characters. Meanwhile, we've pulled together some of the nation's best young comedy writing talent to create the series and we're taking our comedy very seriously! Combining their ideas with Justin's unique performance gifts, I'm sure Gigglebiz will have our young viewers giggling and guffawing away on the sofa."
"With 20 characters in all in the first series, let's be honest, this is just a big excuse for me to dress up in funny costumes every day and be silly," says Gigglebiz star Justin Fletcher. Here's a guide to his new characters:
Guide to Characters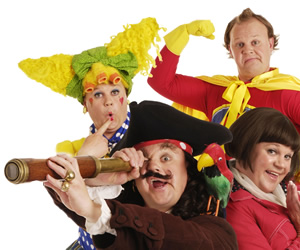 Packed Lunch Pete: a cheery chappy whose only aim in life - to get to eat his packed lunch - is continually thwarted in a succession of unforeseen circumstances.
King Flannel: silent apart from his geriatric mumblings, King Flannel is a mischievous old rogue with a penchant for trying to outwit his butler or generally misbehaving without being caught.
Chip Monk: teenage pet shop worker and animal lover who loves his animals so much that he can't bear the idea of parting with them, which often leads to him acting a little strangely in front of customers...
Gail Force: glamorous weather/news/travel reporter with an uncanny knack of forecasting weather conditions and other events which then seem to happen only to her.
Arthur Sleep: regional news presenter whose main job is to link to Gail Force but can't resist some little jokes of his own and is sometimes having a doze when we come back to him.
Berito Brothers: slightly faded troupe of past-their-best acrobats. Two of them have still got what it takes but the third most definitely hasn't.
DIY Dan: DIY practitioner who never quite manages to demonstrate what to do without making a hash of it. Wallpaper, sloppy paint, wonky shelves, three-legged tables, sloping beds, all are grist to Dan's DIY mill.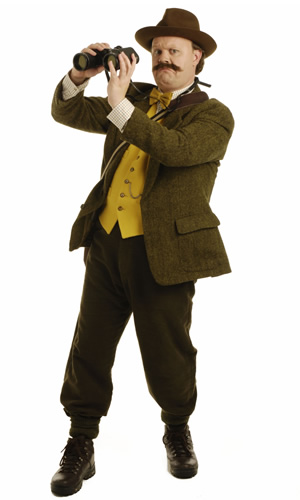 Rapids Johnson: intrepid explorer who combines the best of David Attenborough, David Bellamy, Bear Grylls and the Time Team guys. Never quite manages to catch sight of the creature he's following, even though it's usually behind him!
The Lost Pirate: out-of-time pirate, on the constant lookout for treasure with the aid of his map and trusty telescope, complete with 'x marks the spot' instructions. Happy to try to dig up treasure in the most inappropriate of places.
Anna Conda: a reptile house warden, with reptilian appearance and behaviour, Anna answers 'letters' from viewers about exotic animals. Speaks with very sibilant 's' sounds and has enormous glasses which make her eyes appear huge.
Milkshake Jake: a bartender at a milkshake parlour, Jake makes a horrendous mess of customers while remaining spotlessly clean himself.
Nana Knickerbocker: a grand pantomime dame who lives her entire life as though she's in a panto. Nana likes to invoke all the catchphrases and traditions of panto but usually in the most inappropriate of situations.
Farmer Dung: enthusiastic but incomprehensible farmer, ecstatic to show us around his farm and all the wonders therein, but oblivious to the fact we can't understand a word he's saying.
Ann Teak: inept tour guide and antiques expert who frequently knocks the Ming dynasty vase off the pedestal only for it to be caught by the tourists. Occasionally she's corrected by the party present, which she doesn't like one bit...
Professor Muddles: eccentric and befuddled mad professor who tries out a range of (safe) experiments, all of which go awry in some hilarious way.
Dina Lady: part Nigella Lawson, part Fanny Craddock, Dina is a cook with a soft spot for her put-upon assistant, Tommy Tummy, and an unusual line in culinary delights.
Major Boogie: a music box soldier who always marches to the same tinny little tune. It's only when the children aren't around that the Major gets the chance to let his hair down a bit and dance some other dances...
Humphrey: a happy-go-lucky, cheery little chap who likes to wander around with his trusty companion, Archie the dog, getting involved in things and unwittingly causing mayhem along the way.
Captain Adorable: Wiggyville's resident superhero, only with no superpowers. Captain Adorable answers every little distress call he picks up but he only ever succeeds thanks to the constant vigilance and help of his butler, Botham, and his gadget whizzkid sidekick, the feisty nine-year-old QT.