A short Q&A with the three main stars of FM, Chris O'Dowd, Kevin Bishop and Nina Sosanya...
Each episode houses a different band or celebrity cameo, did anyone particularly surprise you or did you have any secret favourites?
Chris O'Dowd (Lindsay): There was a really cute girl in Guillemots, I can't think of her name now. I also liked Tim Westwood. He was just crazy; it was like watching someone have a nervous break down. He moved about a lot and there was just no control; it was very strange, but really fun. Kev was genuinely worried that he was going to hit him. He made a lot of pig jokes in reference to having Richard Bacon on as a cameo. Konnie Huq was cute, but she never stops talking and I don't know if I could deal with it.
Kevin Bishop (Dom): I was a big childhood fan of the Charlatans, so having them on the set was a great experience. I think, you know, Tim Westwood kind of surpassed all kinds of expectations. He is generally quite mental, a very eccentric character, but a really nice guy and absolutely perfect for this show what with him being a DJ himself. It was very fitting having someone like him on set and he really played up to the camera. I think it's going to be a big highlight for the series.
Nina Sosanya (Jane): I was particularly excited to meet Justin Hawkins, as I think he is a bit of a genius and he was a really nice chap, they have all been really nice. I had no idea what he would be like as a guy, it's just that his performances are so huge. It was really exciting to discover the bands I didn't know of, but of course all of the kids know who they are. And it was very cool meeting The Charlatans, because... well, they are The Charlatans. Somehow we managed to stumble across really nice people, maybe all musicians are like that, but the music and the bands adds such an exciting element to each episode. We have the main plot, but then suddenly there is a "live" performance cleverly woven into the plot. And the bands were so creative with the little studio we had.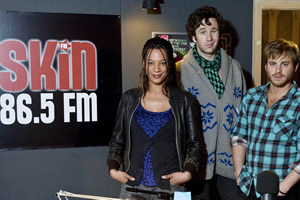 So have you ever considered a career in radio?
Chris: No, but I quite like the idea that Kev, Nina and myself could host a show.
Kevin: Chris and I talked about this when we did the pilot; we said that we'd love to be DJs. Whatever time of the night it was it wouldn't matter, whatever the ratings were it wouldn't matter, just to have a slot for a couple of hours in the evening where you had a laugh and messed around. I think people enjoy listening to the shows where they get the bands in and have live music. If I had a radio show then I would do acoustic sets all the time and take the piss with the bands, it would be great.
Nina: Possibly, if I were to have my own show I think I would do a Goth show where I mostly played songs my old school friends requested - The Cure, The Pogues. I would play anyone that was of the same era, as long as it wasn't New Romantic, as that wouldn't cut it.
Who would be your ideal guest?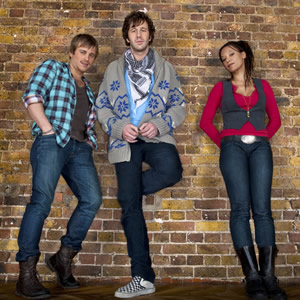 Chris: I would like to do a show like FM. I would do a show which had music on it and a bit of banter and that would kind of be it - a lot of new indie stuff would be perfect. Noel and Liam Gallagher would be my ideal guests as I think they are really funny. Perhaps I would get Damon Albarn in also - just everyone I liked when I was fifteen.
Kevin: I would love to get Michael Jackson in and just get to the bottom of a few things. I think he would be really interesting. I would like to do prison radio that would be good. I would like to go to prisons and do a radio show in prisons. I would get people that you can't really get on the outside to do interviews, that would be quite interesting.
Nina: David Attenborough, The Pogues and Shane MacGowan - that's a bit geeky isn't it, not very cool?
Did you do a lot of research about the industry before you started this project?
Chris: I went and watched some DJs. I wanted to see how they operated in a studio, especially as it is such an oral medium. I saw Alex Zane, Chris Moyles and Chris Evans and they were very informative.
Kevin: I've been to a few festivals backstage and I would liken a lot of people there to Dom. They would probably be more like roadies than radio DJs, but someone like Dom who is a man of the people and not bothered by all of that showbiz stuff. Dom feels like he has got a lot in common with the bands themselves.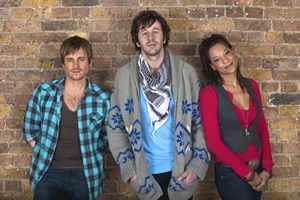 What's your highlight of the series?
Chris: I like the skinny jeans thing. They were a thirty waist. I mean I'm not in great shape, but we did deliberately pick clothes that were small, and I wouldn't be a small. I like the idea that someone thinks they can get away with skinny stuff and they can't. It says a lot about that person.
Kevin: I think the highlight of this series is probably Westwood and The Charlatans, those were two good days. I really liked Dom's storylines and I love it when he is shags his mate's mum, it has a really good twist. I just love the chaos of the series in general and the British awkwardness that we've got and do so well. It's the kind of comedy that I like to watch, maybe more than my own show.
Nina: Any part we filmed where I was warm and there weren't many of those. The scene where I was drunk was pretty fun and then off camera I was serenaded by a drunken man. He started to sing Cyndi Lauper to me and Buffalo Soldier - it was very bizarre.
Why should ITV2 viewers tune into FM?
Kevin: Because FM is a good, British indie comedy with music and bands, and I'd say just on that premise alone it is quite appealing. It is the sort of thing I would watch.
Nina: Because it is genuinely funny and is not like anything else. The style of the comedy, the characters and the fact that each episode houses a whole set of people playing themselves, which is a nice off-set to what is going on elsewhere - it all knits together very well.