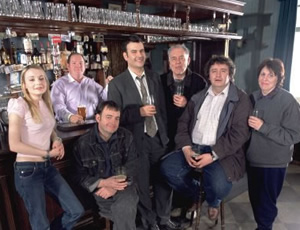 Early Doors is a critically acclaimed comedy set entirely in The Grapes, a small pub in the North of England. Into this warm, slightly hopeless environment come a group of lovable characters who like a pint, but more than that, like each other. Lads Joe and Duffy command centre table and most of the conversation, largely at the expenses of landlord Ken's less acute regulars, such as Eddie, for whom a change in the town's traffic flow can become a preoccupation.
Early Doors, which was penned by Craig Cash and Phil Mealey, may disappoint those who are expecting broad Royle Family style humour but this gentle, character driven comedy is the kind that gradually grows on you.
John Henshaw stars as Ken, pub landlord of typically non themed, down to earth northern pub, dealing with his genial but complacent customers, including Joe (Craig Cash) and Duffy (Phil Mealey) as two buddies with a tendency to reinforce each others talent for dispensing bad advice. These two together with a handful of supporting character are not exactly life's losers but then again hardly over achievers either.
Sharing his living quarters with his adopted daughter and demanding mother, Ken, underneath the gruff exterior, is a complex creature of hopes, dreams, regrets and hidden desires and not the usual two dimensional landlord caricature that usually peppers sitcoms.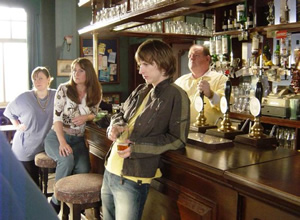 Cash and Mealey know their characters well, particularly northern folk with their sayings and idiosyncrasies, coming out with the kind of patter that is often bereft of self awareness. Whether it's the most boring man on the planet, who thinks detailing travel directions and other trivialities is gripping stuff, or the two laziest policemen in the world, who spend more time supping in the pub than catching crooks; they are all part of a rich repertory of well rounded characters that make up this 'rooted in reality' comedy. Think Mike Leigh with more laughs and less plot.
Early Doors may not seem an obvious winner and its dour sets may appear a tad off putting, even depressing, but the viewer's investment pays off, as you realise that you are listening to some great lines from real characters, some of whom we've all met at some point.
If you are an Early Doors fan, be sure to check out Cash and Mealey's 2008 comedy drama Sunshine too. Although it is more drama heavy than this sitcom, it is notable because many of the Early Doors cast also made an appearance in the drama.