With Sky 1 comedy drama Agatha Raisin coming out on DVD, we caught up with Katy Wix (aka Gemma Simpson in the show) to find out more.
Hi Katy. How is life for you right now...?
Today I'm about a seven out of ten which isn't bad at all for a Wednesday...
You recently starred in Agatha Raisin, which is out now on DVD. What was it like to work on the show, and act alongside the likes of Ashley Jensen and Mathew Horne?
Both their performances are excellent in the show and they each have a very impressive work ethic too, which I hope rubbed off on me. They are also delightful human beings.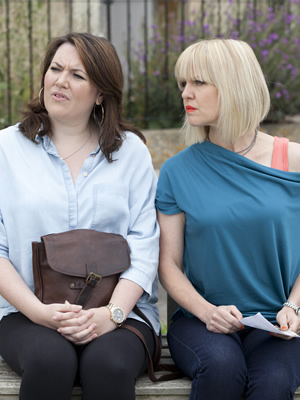 Is it not odd that your character Gemma gets on with Agatha? They come from quite different backgrounds...
Well I would argue that they have a fair amount in common: operating slightly outside of the hub of village life, they are both looking for 'a family' and a place to belong and they find that in one another. They each deploy different methods to mask their vulnerabilities I think. There is an un-said respect between them.
There's a lot of death for one small place! You've previously said you find crime dramas quite cathartic though?
Well, I suppose, yes - I like the idea that we can cleanse and purify ourselves through dramatic art! Plus, I think people just enjoy the classic 'whodunit' plot twists and red-herrings etc.
Presumably you'd be up for making a second series, if Sky orders more episodes?
Absolutely.
The locations that act as Carsely look very tranquil. Is that all on screen, or are they really that idyllic?
It's incredibly picturesque, yes. I wasn't familiar with that area of Britain at all actually before working there. I did have a rural upbringing but in South Wales where the landscape feels rougher and wilder somehow. The Cotswolds seems a little neater to me.
Could you ever see yourself, in real life, moving to somewhere like that?
I can completely see why people move there and the appeal of village life. Most likely I'd end up back in Wales though if I was going to return to the countryside.
You were also recently in The Windsors, which is to return for a second series. Do you think you'll ever meet Fergie, who you play in that show?
Do I think I will? Probably not. Would I like to? Yes, definitely. I think she has obviously been through a lot.
What's next for you?
I'm mainly writing and procrastinating. Few scripts in development, trying to write another book, little online films, and bobs and bits. I am toying with the idea of starting a podcast (once I've befriend technology).
Agatha Raisin Series 1 is available to Pre-order on DVD