The Staff
A situation comedy performed as part of The Sitcom Mission 2012
Written by Emma Cochrane.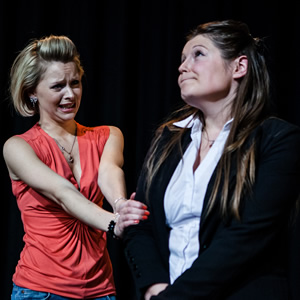 When Danny, the talented premier league footballer with a brain the size of boot-stud got together with the top stunner Chelsea, it was a tabloid dream come true, or so they would have you believe. Meanwhile, below stairs, in the kitchen, their staff have other dreams - namely making a mint off the happy couple and their modern-yet-traditional-palatial-home-of-love, copyright Heat magazine.
Today is the birthday of Danny and Chelsea's twins Monte Carlo and Montego Bay and Chelsea decides to change the venue of the party at the last minute, wrecking the plans of the staff, particularly head-cleaner Jo and chauffeur Nick who, along with chef, Aston, were hoping to get their new cake-making business off the ground. Aston, a graduate of Jamie Oliver's Fifteen restaurant, a former-criminal trying to stay on the straight-and-narrow, reluctantly has to go along with Jo and Nick's plans to keep the cake business going and cater for 200 celebrity party guests, while keeping the whole thing a secret from Chelsea, Danny and their highly suspicious P.A. Demi, who also happens to be Chelsea's mother. Surely nothing can go wrong...
Emma Cochrane
Emma has been winning writing awards since the age of 14, when her incisive question "Do you own any white mice?" gave her the opportunity to interview Hitchhikers Guide To The Galaxy author Douglas Adams. This ability to ask 'difficult' questions landed her a job at music magazine Smash Hits where she was the go-to person should you need to know if Peter Andre had poisoned himself by eating too many bananas (answer: probably) or the ginger one out of the Spice Girls really thought she was Margaret Thatcher.
Since then she has written for numerous newspapers and magazines including The Times, FHM and Cosmopolitan and been editor at Total Film and Empire and launch managing editor of Zoo. In between, she also trained in medicine and genetics because there are only so many times you can ask celebrities what their favourite sandwich is without going insane. She currently teaches science in rural West Wales, where there really are as many sheep as you've been led to believe, and writes part-time. Her first sitcom script for The Sitcom Mission was long-listed last year, so she's very excited that this year's script has made it to the performance stage!
'The Staff' Notes
Performed in Heat 3, Semi Final 2, Grand Final