DVD Review: Marriage Lines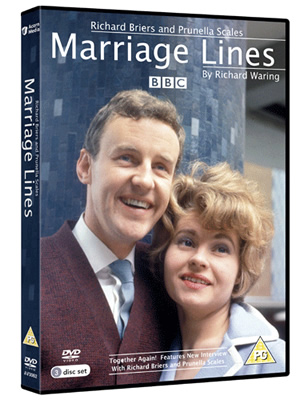 Near forgotten since its fifth and final series came to an end in 1966, this early BBC sitcom stars Richard Briers and Prunella Scales as newlyweds George and Kate Starling.
An often surprisingly realistic sitcom, Marriage Lines was written by relationship comedy specialist Richard Waring, whose other shows include Not In Front Of The Children, My Wife Next Door, Miss Jones And Son, Rings On Their Fingers and Partners. Whilst later in his career his sitcoms would become more alike the uproarious style so often attributed to the 1970s, this early offering - beginning in 1963 - is far more subtle. The humour is underplayed, often gentle, and goes more for the laughs of natural, realistic recognition than guffaws of outrageous hilarity.
A full 50 years after it was written, the comedy stands up remarkably well. It's a given that some of the references and attitudes portrayed in the series are notably dated, but the core of the humour focuses on Kate and George's relationship; and those fundamentals of human behaviour and instinct change very little in such a short span of decades. Wives are still curiously over-emotional in the eyes of the husband, who in turn is still prone to jibes from friends and colleagues about being 'under the thumb' and at his partner's beck and call.
The cast - particularly Briers and Scales in the lead roles - are really what brings the comedy and the world created by Waring to life, however. Some of the supporting guests from episode to episode are a little more on the typically broadly painted side of realism, but the Starlings are played with recognisable warmth and nuance, and one really believes the affection each character holds for the other.
On the DVD release itself, we can only give Acorn Media a glowing report. It is not often that TV series of such age and relative obscurity see the light of delay, much less those from the BBC archive, and less still of series that no longer exist in their entirety. Thankfully, Acorn have been showing great dedication and attention to detail of late, and include over the three disc set all but one surviving episode, 17 in total; the complete first and third series. (The eighteenth surviving episode is a short Christmas special, broadcast during Christmas Night With The Stars on Christmas Day 1964, between Series 2 and 3).
Topping off this complete surviving collection are cast filmographies, a photo gallery, and - most notably - a brand new, exclusive interview conducted earlier in 2012 with Scales and Briers together. Heart-warming indeed.