When I embarked on my first work of comedy history over a decade ago, being a Raider of the Lost Comedy Archives was not a priority - I just wanted to keep my beloved I'm Sorry I Haven't A Clue safe from the hordes of point-missing, joke-spoiling hacks who had written about it in the past, using unforgivable phrases like 'fictional scorer' and 'fake London Underground game', and so with Barry Cryer's help, I jumped at my chance. But with nearly 40 years of panel game anarchy to document - plus over 100 episodes of ISIRTA - rare material was almost immaterial. It took over a year just to listen to everything.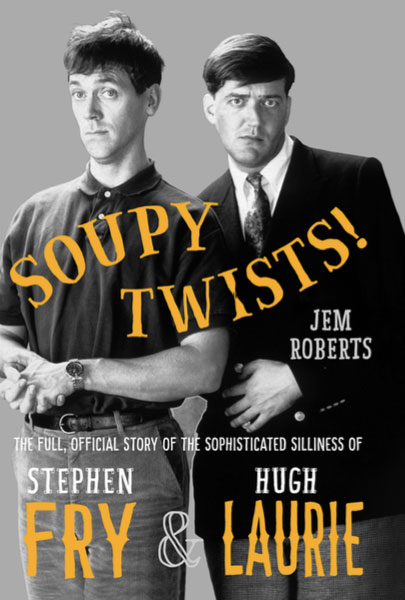 I strive to write gripping prose, but my skills as an archivist, particularly any need to be relatively organised, have never been my strong point; I leave that to other, sensible, organised people. There are still a couple of episodes of Clue lost to us, and a complicated situation with ISIRTA episodes which only exist in harshly cut form, as broadcast on New Zealand radio, but there was certainly little need to discover 'unheard' material for The Clue Bible.
This 'archive rarities' element of my career only came to the fore on my second work of comedy history, The True History of The Black Adder, and one of the greatest days of my life. Those who love Richard Curtis as I do - close your eyes for a moment and imagine what it might be like to step into one of his films for an hour or so, and that's the treatment I received when I interviewed him in Notting Hill. Admittedly, I never bumped into a Hollywood star, soaked them in orange juice and fell in love, but far better than that, at the conclusion of our all-too-brief but venerable chat about British history, Curtis put a request through to his PA next door to print something out... and then handed me the script to a first draft of Blackadder In Bethlehem - the Christmas special he started in 1988, before Elton's Scrooge concept took over. Just like that, a Blackadder episode never even hinted at before was in my grasp, rolled up in my back pocket as I filled the rest of the day before my train home by exploring the Tower of London, where the real Prince Edmund must have stalked...
And then the unexpected honour of becoming Douglas Adams's official biographer yielded a further bounty of archive delights, hitherto un-gossiped-about. I've written about being the first writer to explore the Douglas Adams paper archive at St. John's College, Cambridge before, but in several days' fevered capture, I obtained so much gold directly from the Frood himself, we used only a fraction of it in the finished book: the unfinished Life, The Universe and Everything, sketched-out Dirk Gently mysteries which have yet to see the light of day or night, bizarre Greek myth skits which were impossible to place in any context... despite only being able to include the cream of the material, once The Frood was in the shops, it was beginning to seem that including "unseen material" (a phrase which has been sneered at by some online, but seems a reasonable shorthand for "comedy that was never officially released in any form until now") was almost a staple of my output.
And yet, oh and yet - after a casual query over lunch with Stephen Fry as to whether anything in a similar vein existed for A Bit Of Fry & Laurie, once again, I was inkling-free that it would trigger such bounties. And indeed, such extremely quick service, even from a tech geek like Fry. By the time I had returned home from our meeting, during which he agreed to Soupy Twists' existence, given Hugh's go ahead... there it was, in my inbox - a Dropbox link to every extant ABOF&L sketch, hundreds of old defunct files created on early Macintoshes stretching from the late 80s to the mid-late 90s, round about the time the two colleagues may have been idly considering a fifth series of their sketch show, which never materialised...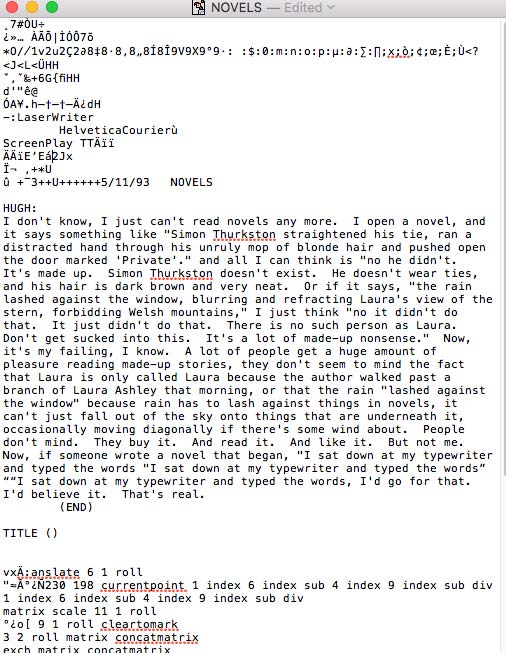 Every last file was corrupted, formatted for long-gone applications, and barely readable. My Mac seemed convinced that Adobe Illustrator was the one natural tool for the job, but it was clearly bonkers, and so every last file of the hundreds - also including rough drafts of scripts for events like Christmas Night With The Stars, and the full text of their 1987 Edinburgh show, with hardly any material that wound up on TV - had to be opened in Simpletext, where a wall of garbled corruption awaited me. But there, hidden under the random ampersands and endless meaningless codes... the funny stuff.
The unmade sequel to the last Tony & Control episode, Hugh's lost folk song 'The Ballad of Neddy Muldoon', undeveloped language-laden dialogues, a whole folder marked 'DALLIARDS', and then the random sketches we never got to see: Stephen as Arnold Schwarzenegger in an Oscar Wilde play; the dreadful domestic sitcom which makes audiences explode with vomit; spoofs of WWF wrestling, Arthurian lore and Del Monte adverts; the Niceness Police; and of course the sheer melodrama of The Farkling... I scrolled through the treasury drooling and gaping, and above all, after many hours of re-formatting and reading, LAUGHING fit to burst, as I have rarely laughed at comedy in decades.
It would only be fair to share "unseen" material which has been personally approved for sharing by Fry, of course, and here's one such sketch just for you - 'A Worrying Gap'. As one of the world's greatest tech geeks, this is Stephen being well ahead of the curve, as you can see, pontificating about video communication. I'm sure Nigel Havers would have been up for it as well...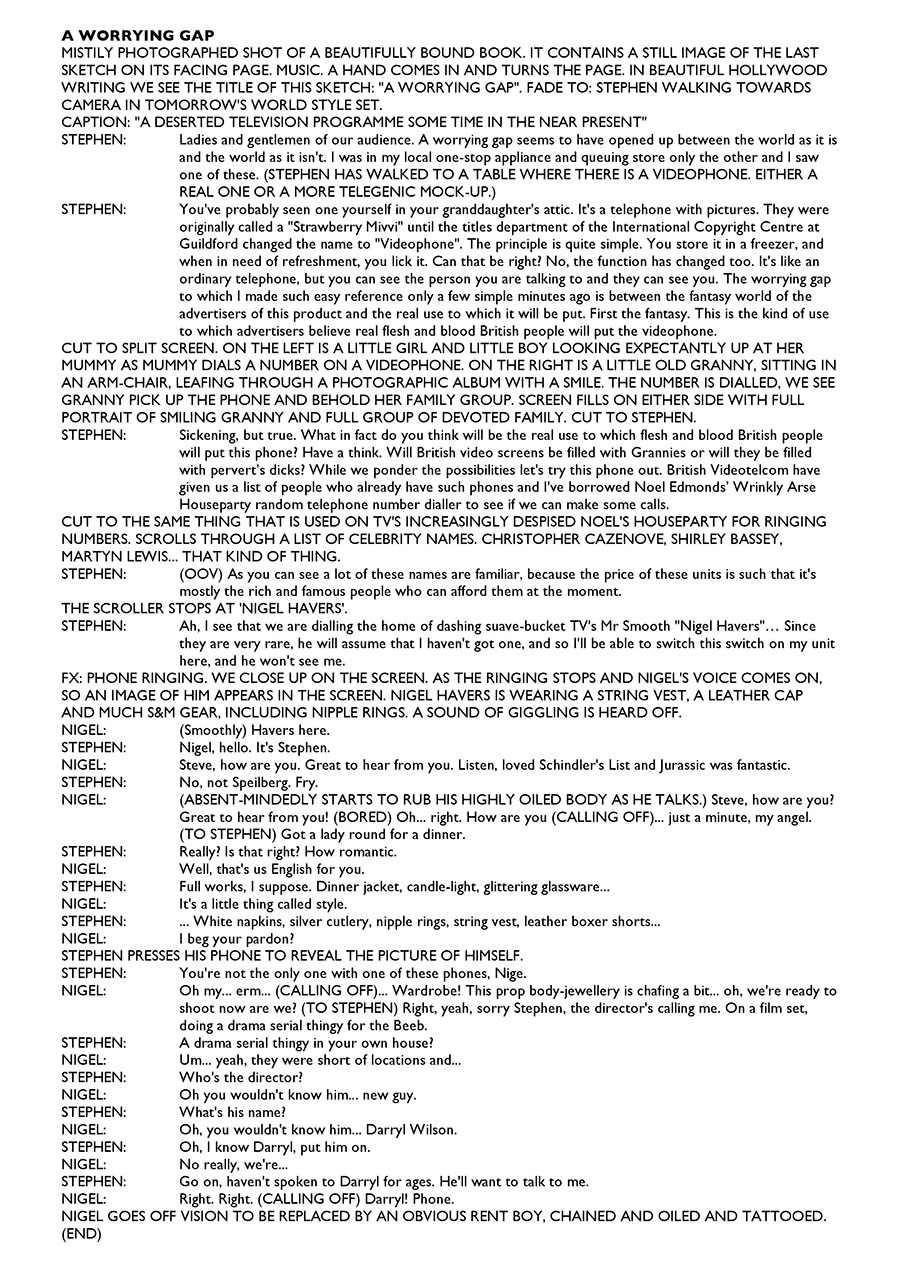 The quality of these sketches is astonishing. There's hours of material, practically an entire unmade ABOF&L Series 5. In total there is more than 60,000 words of it - one third of which you will find in the back of Soupy Twists, an extra third of which has been made available to those who pledged extra for the honour... leaving a third untouched, still private, secret, sacrosanct. Some of it is unusable, squibs that go nowhere, but those misfires are in a tiny minority - few young comedians would not kill to have material this good.
Maybe Stephen & Hugh will be glad to keep this stuff hidden away for now, should they finally get it together to reunite for a well-deserved lap of honour - a consummation endlessly debated by the pair for decades, but perhaps, with the 30th anniversary celebration Soupy Twists out there, one step closer to becoming a reality.