Soupy Twists! - The Full, Official Story Of The Sophisticated Silliness Of Fry & Laurie
Comedy history shows quite convincingly that it is our funniest double acts who receive and retain the most love from the public, from Eric & Ernie and Pete & Dud to The Two Ronnies and Vic & Bob. But although all of the aforementioned partnerships have been celebrated in print (many, many times in the case of the former acts), it's a bizarre oversight that one of the most beloved, successful and silly duos of all time, widely adored both together and apart - Stephen Fry & Hugh Laurie - have not.
Of course, Fry's autobiographies have been gratefully devoured by his admirers, but personal memoirs by their very nature seldom touch on the actual work, and the creative output of the individual. The criminality of there being no book to accompany Fry & Laurie's oeuvre will be rectified with an all-new narrative guide to the partnership's humour, timed to mark the 30th anniversary of the debut of their effortlessly superior sketch show, A Bit Of Fry & Laurie.
With the full blessing, co-operation and active participation of the beloved colleagues Stephen and Hugh themselves, plus of course the troops of friends they have amassed over their four decades in show business, Blackadder chronicler and official biographer of Douglas Adams, Jem Roberts, will take a fresh look at the ampersand-defining colleagues' entwining stories, from insecure Footlighters to international comedy heroes. Focusing on the humour they generated between them, exhaustive research will result in a fizzy comedy narrative taking in the excitement of being the first Perrier Award winners with The Cellar Tapes, the terrors of performing on Saturday Live, the collaborative warfare of Blackadder, the creation of four series of cult sketch comedy which have only grown in global acclaim year by year, the admirable promotion of Tidyman's Carpets, and the ultimate depiction of Wodehouse's most inimitable characters, Jeeves & Wooster. Beyond this, the trials and tribulations of their remarkable subsequent separate career paths, from QI to House, will be entertainingly explored for the very first time. The story will be authoritative, but never remotely dull.
Thanks to the generosity of both colleagues, the huge databanks of the A Bit Of Fry & Laurie unseen material archive have been opened up, revealing a host of tantalising titbits for fans - including what happened next for Tony & Control, which other shops Mr Dalliard's friend ran, and the lost Laurie number The Ballad of Neddy Muldoon - but above all, making Stephen & Hugh's astonishing achievements all the more evident by instantly being freshly, gut-squeezingly funny.
Above all, this is the tale of a true friendship, a deep affection between two very funny men which has long been reflected back from an adoring public a thousandfold. Celebrating the 30th anniversary of their first TV pilot as a double act, Soupy Twists! will be an all-but overdue celebration of a unique comic chemistry, documenting the most outrageous, exciting and linguistically sublime comedy of a generation.
"You've been patient, you've been glossy, you've been surprisingly supple. I've enjoyed being fabulous with you."
"Bet you can't eat three!"
First published: Thursday 6th September 2018
Publisher: Unbound
Pages: 320
Catalogue: 9781783524518
Buy and sell old and new items
Search for this product on eBay
It looks like you're in the US? Fear not! Almost everything can still be ordered.
Amazon UK
deliver internationally,
Amazon.com
carries many items separately, or you can look out for US/Canadian flags on our product listings for direct links.
If ordering from a UK store, please note that you are in Region 1 (DVD)/Region A (Blu-ray), whilst the UK is in Region 2/B, respectively. This means that many - but by no means all - may fail to play. Look for products marked "Region free", "All regions", "Region 0" or "Multi-region". Blu-rays may also be marked "Region A/B/C", or variations thereof. You may also check whether your DVD/Blu-ray player supports multi-region playback (also referred to as "region free"), or whether it can be set to do so. There should, of course, be no problems with books, CDs, or other physical items.
More advice & help on importing
See also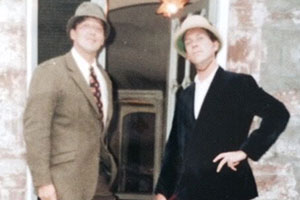 Monday 10th September 2018
The Hows & The Whys & The D'you-Mind-If-I-Don'ts of the Fry & Laurie Archive, by their official biographer, Jem Roberts.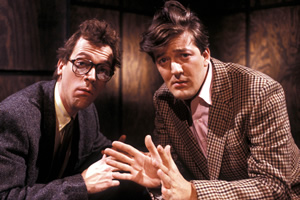 Tuesday 17th May 2016
Previously un-seen Fry & Laurie scripts are to be published in Soupy Twists!, a new book about the work of Stephen Fry and Hugh Laurie.