Ability Series 3 on Radio 4
Lost Voice Guy's Ability to return to Radio 4
Co-written by and starring Lee Ridley, the sitcom focuses on a man with cerebral palsy
Lisa Hammond is joining the cast as Matt's on-off girlfriend, with Jason Lewis now playing Bob the carer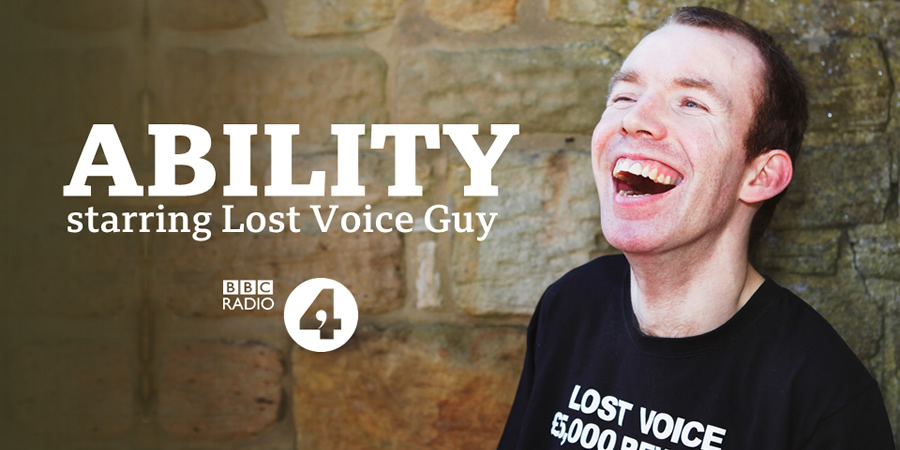 Lost Voice Guy's semi-autobiographical sitcom Ability is returning to Radio 4.
The stand-up, otherwise known as Lee Ridley, teased a photo of the script for the first episode of the third series on social media, intriguingly titled "Robot Hitler".
He also confirmed the return of the main characters, Matt, played by himself, his inner voice (Andrew Hayden-Smith) and best friend Jess (Sammy T Dobson), when the sitcom resumes on Wednesday 10th February.
See tweet
Lisa Hammond (I Hate Suzy) will be joining the cast as Matt's on-off girlfriend, and Jason Lewis will play Bob, taking over from Allan Mustafa who played Matt's rubbish carer in the first two series.
Co-written by former Britain's Got Talent winner Ridley with Kat Butterfield and Daniel Audritt, the sitcom focuses on Matt, who like Ridley has cerebral palsy and can only speak using an app on his tablet computer, striking out for independence.
Ridley said: "It's great to be back, even if it is remotely. At least this way I don't have to get dressed. I really enjoyed writing this series with Kat and Dan. I'm looking forward to letting people hear what Matt, Bob and Jess have been up to in the last year or so."
Ability is being taped remotely, with the cast in their homes, after plans for a studio taping in November had to be abandoned because of Covid.
Production company Funnybones confirms: "The production was due to be recorded in studio in November but was postponed, in the hope that things would improve. But no such luck, of course. So now it is being recorded using a combination of studio and remote facilities in the cast's houses, complete with the occasional interruptions from delivery men knocking at the door."
Producer Jane Berthoud says: "I miss being in studio but [production services company] Spiritland have made this all very easy. And it does have the advantage of everyone being able to choose their own favourite biscuits. I'm confident we'll be able to provide some of the laughter we all so need at the moment."
The four-episode first series began on Radio 4 in 2018, followed by four more the following year, earning the sitcom a nomination for best radio comedy in the 2019 Writers' Guild Awards.
Coronavirus restrictions permitting, Lost Voice Guy is set to return to live touring in March with his Cerebral LOLsy show (20th January update: the tour has been postponed until 2022). He published his first book, the memoir I'm Only In It For The Parking, last year.
Meanwhile, American stand-up Alex Edelman is recording a fourth series of his Peer Group show for Radio 4, with tickets for the remote recording available.
---
For updates, click the button below.
Share this page