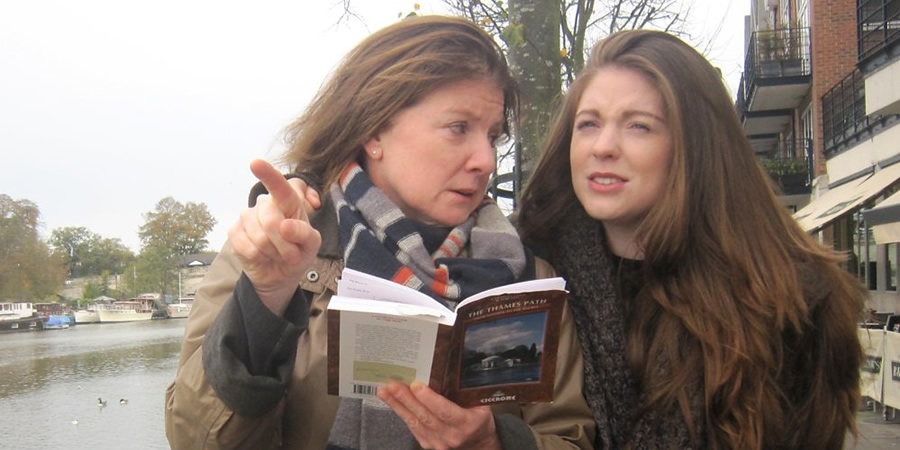 Genre

Comedy Drama

Broadcast

Channel

Episodes

Creators

Starring

Writer

Producer
Guilt Trip follows the story of Ros and her daughter Laura, as they take part in a two week sponsored walk covering the full length of the Thames Path. Laura's father and Ros' ex-husband has recently passed away, and they want to raise money for his charity.
Felicity Montagu has created this four part comedy drama with her real life daughter Olivia Nixon, and the pair star together in the show as Ros and Laura.
The series explores the relationship between mothers and daughters and how it can change through the adversity of divorce, bereavement and having to walk 184 miles together because it seemed like a good idea at the time.
The first episode sees Ros and Laura embark on their journey. In her usual enthusiastic and thoughtless manner, Ros has secretly arranged for Laura's ex-boyfriend to drop them off. The renewed bond Ros is hoping for may be a bit trickier than expected, especially when Ros manages to offend pretty much everyone she meets along the way.
By the final episode they've got drunk, overslept, escaped from a potential murderer and hitched lifts far more often than they would have believed. But they've also talked, laughed and managed to avoid pushing each other into the river, and eventually they arrive at Tower Bridge where they plan to scatter the ashes of Laura's father, but questions soon arise as to whether this is really what he would have wanted.
Felicity Montagu says: "It's so exciting to be able to shine a light on the mother-daughter relationship and we're really proud of the result. Not everyone gets the chance to work with their daughters, and now I've had the experience of working with Livvy I realise how much talent and humour she's got from me - and how much bossiness and vanity she's got from her father."
The BBC's Jane Berthoud says: "I've long admired Felicity Montagu as one of our country's leading comedy actors and now she is proving herself to be a talented creative force too. She and her daughter are naturally funny together and Katherine has done them proud. Together they make a formidable team. I just had to laugh a lot - tough job!"
Production company
Broadcast details
First broadcast

Wednesday 27th July 2016 on BBC Radio 4 at 11:30am

Last new broadcast

Wednesday 17th August 2016 on BBC Radio 4 at 11:30am

Length of episodes

30 minutes

Last repeat

Saturday 31st July 2021 at 5:00am on Radio 4 Extra