Location

England

Member since

January 2008

Member type

Member

Forum posts

5,183
Profile
I write comedy, me.
Make It profile
I'm a comedy writer, currently based in the North East with several tv credits.
My latest project was the BBC's successful WW1 rap battle, for which I co-wrote the lyrics, wrote and performed the music, and also partly voiced-over. It currently has over three million YouTube hits. You can view it here: www.youtube.com/watch?v=kCEUZ4rFiac
I won the BBC's Jesting About 2 sitcom-writing talent scheme out of approximately 700 entries from experienced writers, and had a sitcom commissioned by BBC Comedy, starring Miriam Margolyes and Bob Mortimer. The script was developed but never quite made production, but is now in the hands of a well-known Indie.
The year before I won a place on the BBC's Northern Laughs writing scheme and was mentored by Ian La Frenais on a new sitcom script, which was then performed live at the Edinburgh festival by Ruth Bratt, Seymour Mace and Lizzie Roper.
Prior to that I won the BBC Funny Hunt competition.
My day job for the last 15 years has been writing jokes and copy for UK humour greeting cards. My cards are sold in WHSmiths, Clintons, Tescos etc. They're dead funny, like!
Feature articles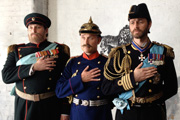 Friday 20th June 2014
Comedy writer Lee Henman talks about writing and composing an 'epic rap battle' comedy short for the BBC's iPlayer WW1 Uncut series.