How we made The Intrepid Adventures Of Pamplemousse Lautrec interview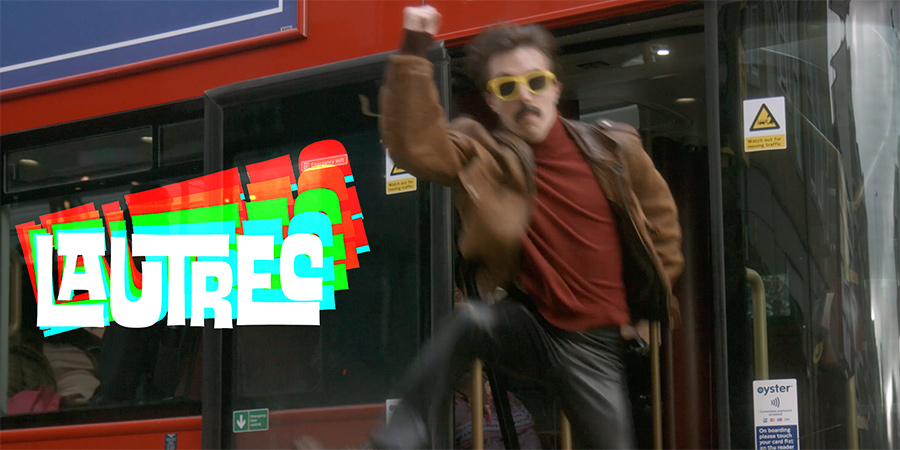 Colourful and creative pilot The Intrepid Adventures Of Pamplemousse Lautrec has been published online for free. A 1970s-style spoof following a secret agent, it's a product of Michael Keane, Felix Trench and Keif Gwinn, comedy producers who previously worked together on topical format British Rationals. You can check out their new creation here:
You can see Trench in the lead role of Pamplemousse Lautrec, and look out for Keane as Grant Bigman, and Gwinn popping up at the end whilst deep in the editing process. As well as producing and appearing on screen, Keane also wrote the programme and Gwinn is also behind the camera as DoP - and, yes, editor.
Here they talk more about the process of creating a pilot on a budget, working as a group, and their hopes for turning the format into a series:
How did you end up getting involved in making comedy things?
Michael: I trained as an actor and have always done comedy things - stand-up, improv - and written comedy bits, whether sketches or fringe plays. I moved towards screenwriting when laid up after an operation a couple of years ago and was on a BBC scheme for emerging talent last year. And I'd worked with Keif and Nick on British Rationals as a writer and performer. Making comedy, although practically difficult, is always a bit more rewarding than sending script after script off. You get the collaboration element that the laptop just doesn't offer!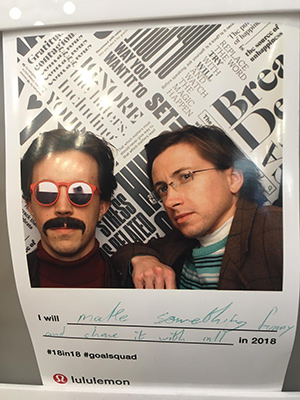 Felix: Like Mike, I'm an actor. Over the years, I found that I'd get more work in comedy than drama so I leaned in. A few years ago some friends and I started making a sitcom podcast called Wooden Overcoats that has set the tone for a lot of my career since. Since then I've worked for BBC Three and am an improviser with The Free Association.
Keif: I left school at 16 to take a job at an ISP [internet company] in London. After ten or so years of working in IT, I wanted to do something that people would enjoy more than a reliably delivered email. I took the stand-up course recommended by Greg Davies who I'd had a chat with at The Comedy Store and started writing and performing. I saw stand-up, and then improv, as a way to loosen up my creative muscles and start making films.
How would you describe The Intrepid Adventures Of Pamplemousse Lautrec? It's not your standard comedy offering...
Keif: A live-action secret agent kids cartoon for adults.
Michael: I'm sorry to say I would probably use the word 'zany'. It's not my favourite word generally but it's accurate. It's a short and colourful show, almost cartoonish, ridiculous in any sense of the word. Because it's so short I tried to cram in as many gags as possible and, because of that, whether something is funny or not is a bigger factor in its presence over, say, narrative necessity. So funny. Colourful. And, heaven help us, zany.
Felix: It is big, silly and proud of it.
Who dreamt up the title? Had they been eating a lot of cheese the night before?
Michael: I've always had a thing for long titles. It's really unhelpful for an emerging writer. The name Pamplemousse Lautrec came about because I came up with the idea whilst on holiday with Felix in Marrakech. We'd drunk a lot of grapefruit juice. I guess Lautrec came in because I knew it would be a weird piece of art with a gallic twist.
Did you decide to include bold visual elements (like the colourful buildings) at the beginning of development, or did those thoughts come later?
Michael: I always wanted it to be really colourful. I also wanted to use toys and models for exteriors. It was written to be shot on a shoestring so I thought that could be exploited and give a mood of silliness. The very first thing we shot was the exterior of the bus coming to a halt. It was just an afternoon at Keif's, drawing houses on cereal boxes... and then he said he had some broccoli, so we made trees...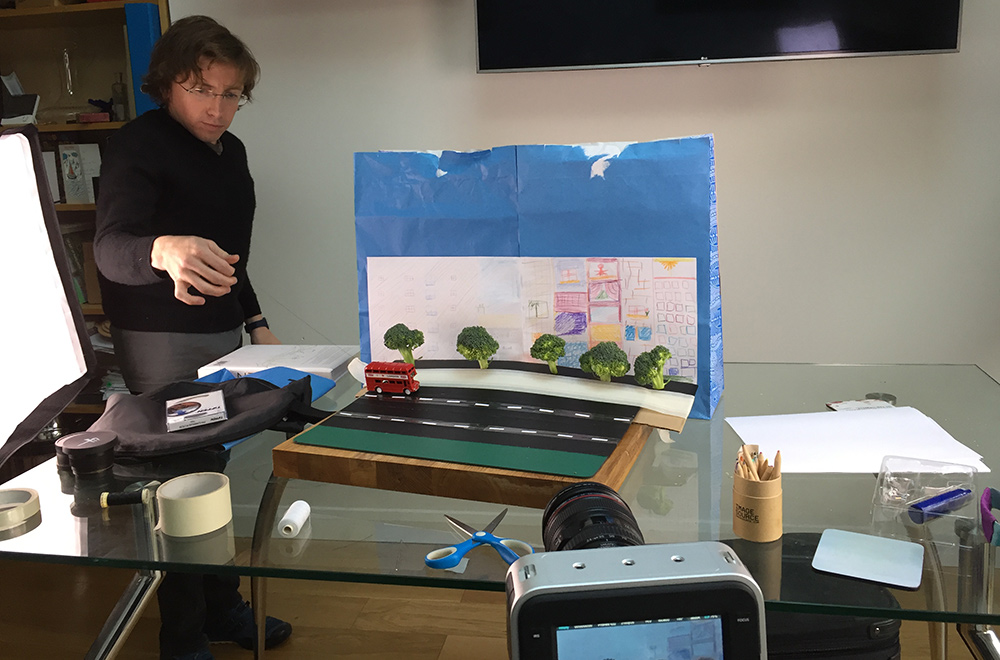 Other exteriors came later, after the shoots with the actors. By then the aesthetic was established, I guess. Nick built these brilliantly absurd buildings like the villains' lair and Keif joined them up to the footage with computer wizardry.
Keif: After we'd established the toy-town motif I was very keen to explore digital set extension techniques to mesh the real and the unreal. The extent of how it was used came from seeing how far I could push it. We always had the fall back to the real elements, but I really enjoyed reskinning the Clapham Omnibus.
The visual effects and timing in the editing are quite key in this project. What software did you use?
Keif: The edit was Premiere Pro (2019), After Effects (2019) and grade in Da Vinci Resolve (16). All done at 4K on my poor old 2012 iMac, so plenty of proxy work and simply waiting for it to render. I would work on a segment, and then leave it running overnight to see what I'd got. When we were setting the project up, I argued we needed to make it at 4K to future-proof it. I don't regret it. Much.
Having Laurence Owen creating you a soundtrack to fit the action is a nice bonus layer of quality.
Michael: Yeah, Laurence is amazing. I met up with him at the Edinburgh Fringe 2019 and spoke to him about it. He's not just a composer, he's a performer and a comedy writer so he just got it, really. He saw a rough cut and was in. The soundtrack is so crucial as it parodies a lot of established genres, 70s cop shows for instance. One bar of music can do the work of half a page of exposition, so yeah, it's integral.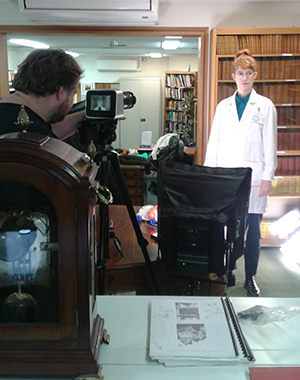 Have you an estimate of how much it cost to make the episode, both financially and in man-hours?
Michael: Yeah, roughly, but I'm not going to give a figure. There were a lot of favours called in and goodwill relied upon, which is one thing for a pilot but unsustainable for a series. I think the props came to under £50. And I can't recall how much Felix insisted on spending on those leather trousers. Man-hour time wise, the shoot took a week, Sunday to Friday. The planning probably took about the same including getting props etc. Then there's the edit...
Keif: I owned all the camera and lighting equipment already, so no additional costs there. We went through quite a few bulbs from not having as many people as would have been ideal for the lighting set up. There were many, many hours in post-production. I generally edit quite quickly so that wasn't so much of an issue, but I was also using the opportunity to learn those set extension techniques and grading, plus a new baby meant it took quite a while to get wrapped up.
What was the biggest challenge you faced and how did you overcome it?
Keif: Teaching myself the After Effects techniques and getting the rotoscoping wrong four times and starting again from scratch. The ten seconds of Lautrec walking up a wall I never want to repeat, but luckily now I've learnt it I won't have to.
Michael: For me, co-ordinating a group of people plus locations in an efficient schedule. We used two homes - mine and Keif's - which allowed for some flexibility. And we did have to replace two actors because the schedule and locations were inked in, and that was that.
Felix: Leather trousers that fit. The women's section of Rocket was very helpful.
What, if anything, did you learn in skills or knowledge in the process of producing the episode?
Felix: Commit to everything. As a commercial director once told me: if you only tell half the joke, you have not in fact told the joke.
Michael: Planning is everything. And the shoot is less than half the work.
Keif: I learnt a lot about effects. I'd never graded a complete project like this before or done quite such extensive effects shots. The whole project is probably the most complicated I've worked on so far, with twice as many shots as my 20-minute short film and ten times the VFX. However, managing to schedule that number of shots and still get us out on time each day was a proud moment.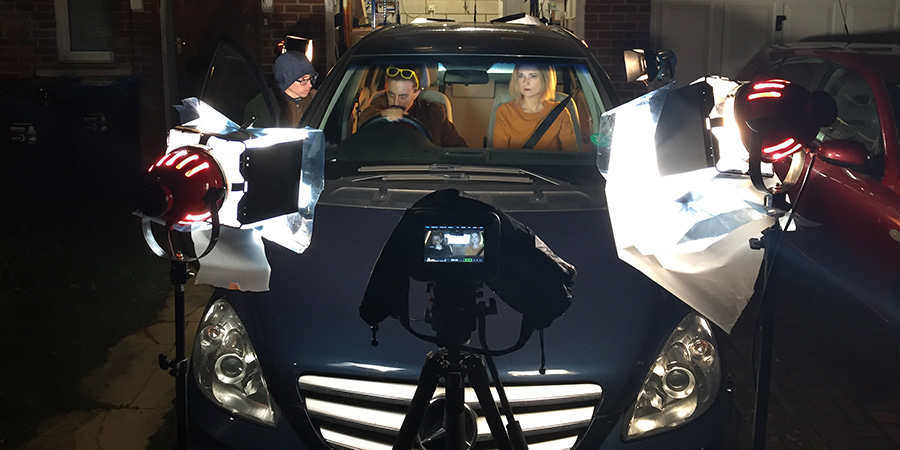 If you were to start again on the project, is there anything you'd change?
Michael: I'd bring more extension leads and make sure Keif had more spare bulbs.
Keif: Having two extra crew on the shoot would have been incredible.
The video you've released is titled Episode 1. So you have plans to make more?
Felix: Fingers crossed.
Michael: I'd love to make more. I do have plans for plotlines and a series. Obviously, it's nigh on impossible at the moment sadly, and we couldn't do it as cheaply as one episode - favours run out, people need their locations back. I'm quite happy with the format because it necessitates a density of comedy.
There's a lot of competition for funding, commissioning and TV slots. Why should those making the decisions pick your project over the others out there?
Michael: It's had overwhelmingly positive feedback and is ready-made for a growing medium. People can download an 8-minute episode on their phone and watch it while waiting at the dentist or getting the train to work. It's a classic style of comedy repackaged for the BBC Three generation. It's also designed to be very cheap to make!
Felix: It has a strong, thought-through aesthetic from a very talented and experienced writer which lends itself easily to an ongoing fun series.
Keif: Unlike Quibi, we're still going! ;)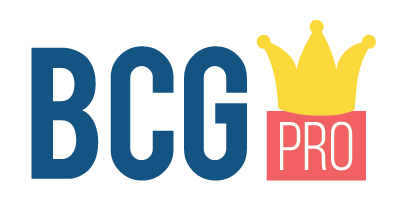 This article is provided for free as part of BCG Pro.
Subscribe now for exclusive features, insight, learning materials, opportunities and other tools for the British comedy industry.