Nick Hildred and Alex Marion talk us through how they launched and continue to produce Release The Clowns Sketch Comedy Podcast, their long-running fortnightly show. There's some very useful tips to follow in here, if you're planning to give podcasting a go yourself.
Ours is a show that pretty much does what it says on the tin. It's a 15-20 minute sketch comedy show, which we podcast every other week. The show is unashamedly silly and occasionally surreal with sketches about everything from CatEnders (EastEnders starring cats) to Mafia Nursery Rhymes to Bilious Zombies.
We work with a pool of about 15 actors and 20 writers (typically each show is written by about 5 of them) and have been podcasting without a break since November 2017. We currently have active listeners in over 40 countries (including 49 States of the Union - seriously, what's up Vermont?). Today we're going to share with you our dos and don'ts of podcasting...
Do: Give yourself enough time to set things up properly
The time between deciding to produce the show and our debut was nine months... then our baby was born.
As it turns out, there are a dizzying number of things to do before you even record a show. It took all of that time to put everything in place, from assembling a team of writer/performers to choosing a podcast platform.
Designing a logo, setting up the studio, getting up to speed on sound editing, naming the show... there was lots to do.
In particular, make sure you've done everything iTunes require of you. There's a lot, and they are finicky, but they dominate the podosphere and will be your largest market.
Don't: Go off half-cocked
When you're creating a podcast there's a lot to think about and organise, so be methodical and make sure you've got everything covered. To do any podcast you need to be fairly organised. To do a podcast like RtCSCP, you need to be meticulous.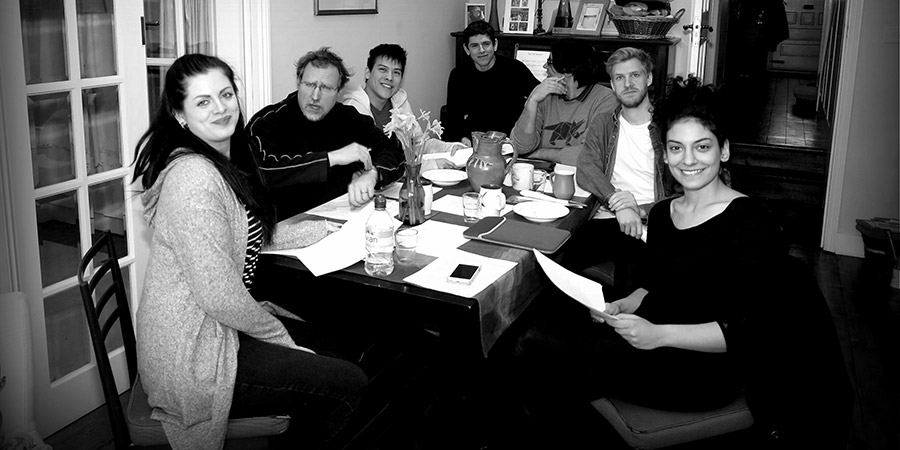 Do: Get the naming right
In particular, make sure your name helps your show to be discovered. Research indicates that, at this point, fewer than 93 people on the planet don't have their own podcast, so visibility is crucial.
It took us a year to work out that including the words Sketch Comedy Podcast in our name made it easier for sketch comedy fans to find us. We really were that naïve.
(Also... Don't: worry about how much you don't know. You'll learn)
Don't: Obsess about the name
We know that there are people who don't listen to our show because it has Clowns in the title. This bothered us until we realised that our fans love the name, and that matters more than our misgivings.
The truth is, if the show is successful the name is good. If Monty Python's Flying Circus had bombed, somebody would have blamed the name (Double Don't: Ever compare yourself to Monty Python, or the equivalent in your field. The comparison will never flatter you. For more on this see our informative pamphlet, Hostages to Fortune, and how to avoid them).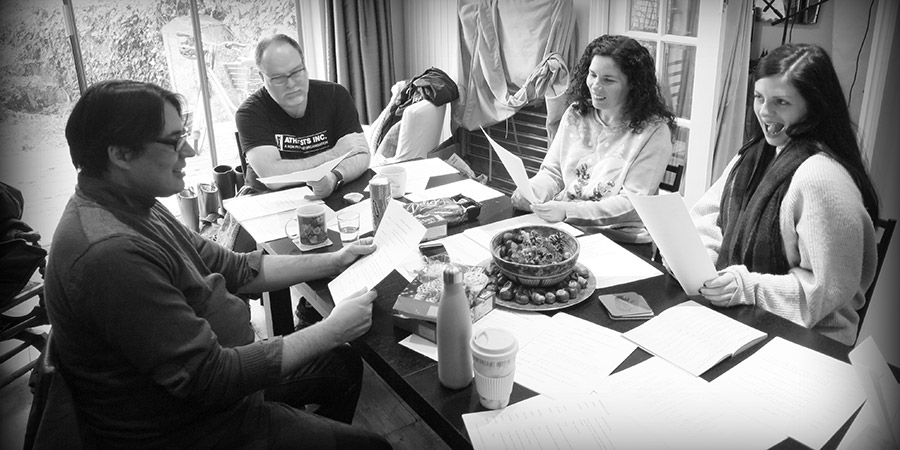 Do: Be clear what you what to achieve
Come up with a concept for the show and decide what you are and aren't going to be - we wanted to be silly / surreal / fast / fun / beautifully produced / finally something Alex could play to his mum*, not cynical / gritty / in your face / crude / hipster cool.
(*Alex's mum loves the show)
Don't: Let all the essential but boring stuff get in the way of the main thing
Making the show you want to make, that you are proud of, is the only reason to do any of the above, so never let it take second place.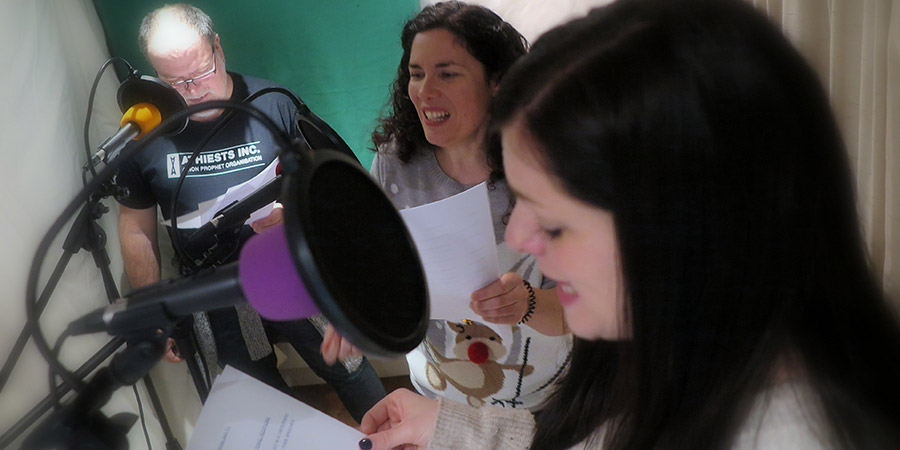 Do: Get yourself a compatible creative partner
There is a lot to do every week and if you're trying to do it all alone it's very hard work and, well, lonely. Splitting organisational tasks, editing each other's output and having a sounding board have all made the process less onerous and more enjoyable. Not only that, when it came to recruiting the team we effectively doubled the pool of talent we had to call upon.
Above all else, we enjoy working together. We share a vision, trust each other's judgement, bounce off each other and laugh a lot.
Don't: Do too much
All the stuff we've mentioned is do-able with enough time and is mostly front-end stuff. What you don't want to do is overstretch every week when you're actually podcasting. That way madness lies.
We originally produced a 15-20 minute fully scripted sketch show every week. This involved one of us (Nick, to be precise) doing at least 20 hours of sound editing a week and the writers burning through material at a frightening rate. It was unsustainable. We managed it for 3 months before switching to a show every other week. Now we're all much happier. The moral is: if it's becoming a chore, you're doing too much. Dial it down a bit. Podcasting is a marathon, not a sprint.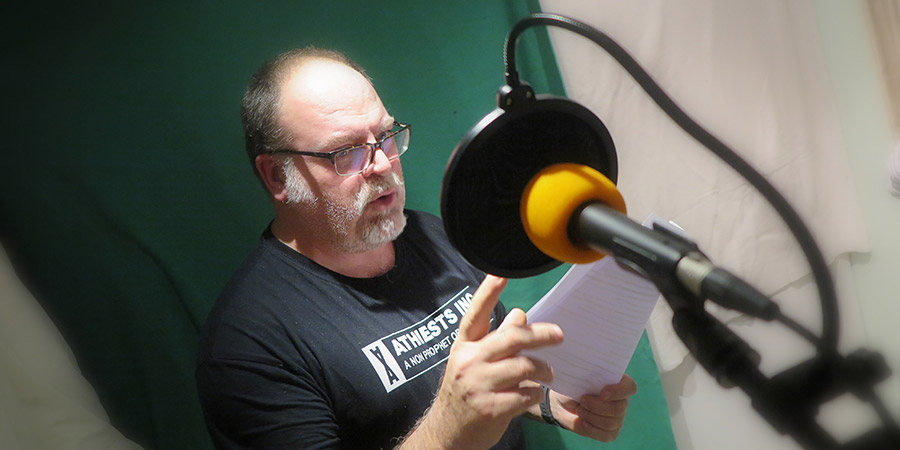 Do: Have fun!
This is the absolute most important thing. No one is forcing you to make a podcast, so you might as well enjoy it. When writers are happy, when the actors are happy and having fun in the studio, that all comes across in the show.
Our outtakes are filled with laughter, stupid jokes, silly noises, people telling outrageous stories. From table read to studio... our marathon sugar and soup fuelled recording sessions are just the best fun. We assume this is the reason people keep coming back (although it may be the soup).
Don't: Just throw money at problems
Cash can be the enemy of ingenuity. You could spend a fortune on incredible mics and specialist sound-baffling, but where's the fun in that? Our mics are bog-standard Shure SM58s and we record in Nick's laundry room, using duvets propped against the walls with off-cuts of picture rails. The whole place is draped in blankets and the result is a sound that's about 85% as good as a recording studio. Only it's free!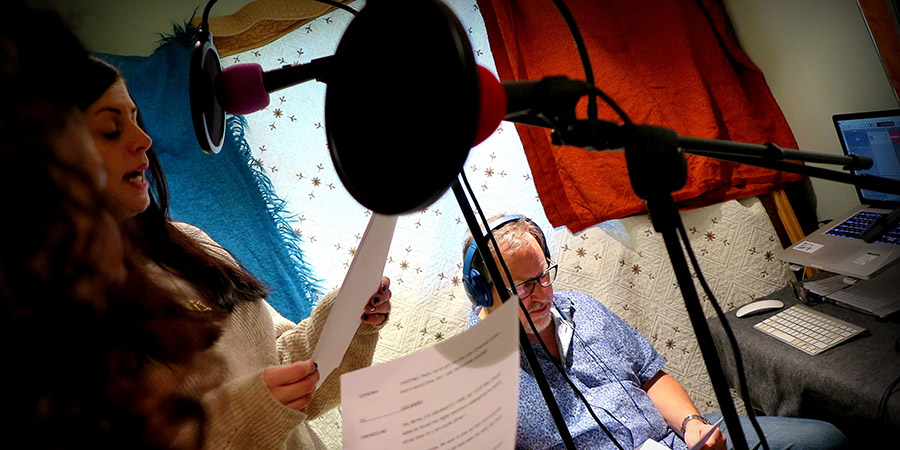 Do: Keep thinking of ways to get better
We are always looking at how recordings can be better, how we can promote ourselves better, what works, what doesn't work.
The process is always evolving and that's part of the fun and one of the things that keeps a show vibrant.
(Extra Do: Reach out to new writers; our open calls, through BCG Pro and the Comedy Crowd, unearthed a wealth of new talent. Extra Don't: Forget to limit the number of submissions per writer, or the time frame for submitting. We learnt this, so that you don't have to).
Don't: Expect anyone else to be as invested in your show as you are
We produce the show. It was our idea. It's our baby. Wonderful though our actors and writers are, we simply cannot expect them to be as invested in promoting the show as we are. At the end of the day, if it's your podcast, you need to be the one with the energy to get all the essential stuff done. Other people will not be as motivated to do it, or have the attention to detail to do it right.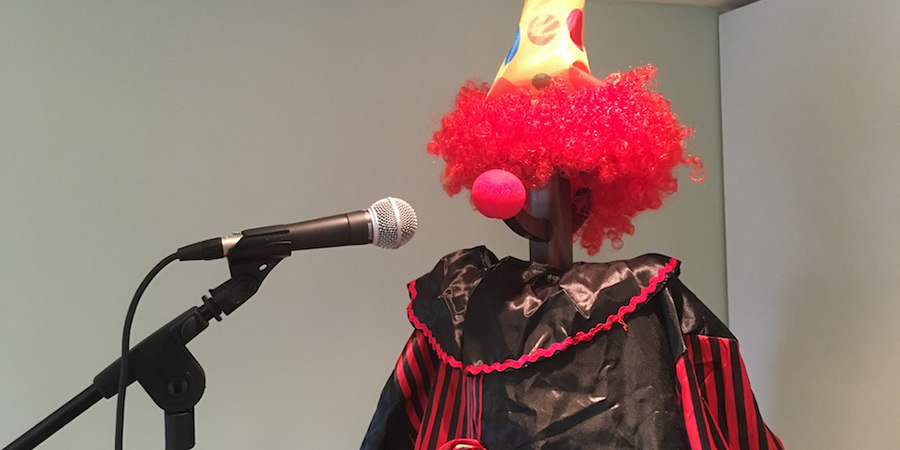 Do: Keep your sense of humour
Even when actors cancel on the day of recording, or when things take longer than you'd like, or your press release campaign gets zero results, or Twitter inexplicably refuses to upload your latest video clip - it's not worth getting totally stressed. Stress a bit - that's only human - but keep it all in perspective. Anger and shouting rarely helps and in comedy it kills your good vibes.
Don't: Expect overnight success
Although it can happen, it's very unlikely in a massively over-saturated podcast market. According to reputable sources, if you've got an audience of over 136 regular listeners per show, that puts you in the top 50% for audience figures.
If you're wanting to get advertising, you make £50/1000 listeners. So even if you're getting 10k listeners per show (that's enough to put you in the top 5%), that's only £500 a show. Podcasting is not a get rich quick scheme.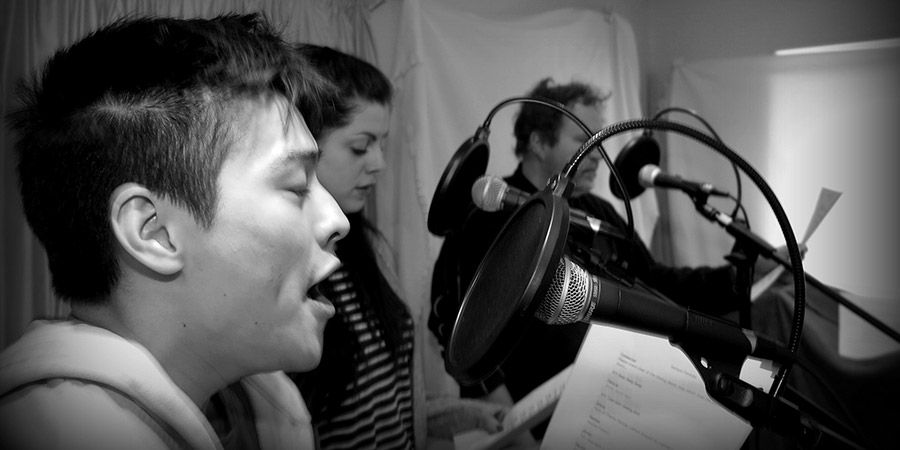 Do: Make friends with other podcasters
We're members of Britpod Scene, No Phony Podcast Network and more, and have good contacts with a bunch of other podcasts.
This allows us to swap promotional material, guest on each other's shows and generally bang the drum on social media to both their fans and ours.
Remember, you're not in competition with other podcasts. Even the ones that are offering something that might be like yours. We actively promote other scripted comedy shows (like Gamma Radio and Comedy Geeks Sketch Show), because they're great. We're confident in what we do, so why not spread the happiness when we find another comedy show we like? Plus you become part of a community.
When it came to our 50th episode it was this that helped us produce something truly unique... We asked 12 of our favourite podcasters to review our spoof movie trailers as if they'd seen the actual movies (which don't exist) in the style of their own shows. The results were epic, genuinely far funnier, and far more interesting, than we could have hoped for.
---
Those are our dos and don'ts. We hope they've given you a window into how we got started, and why we keep going.
---
Release The Clowns Sketch Comedy Podcast is available on iTunes, Spotify and most other podcast platforms, from Spreaker to PodcastAddict to CastBox.
For more, check out the Release The Clowns Sketch Comedy Podcast website
If you're an actor, writer or podcaster who would like to collaborate with Release The Clowns, email clownshq@gmail.com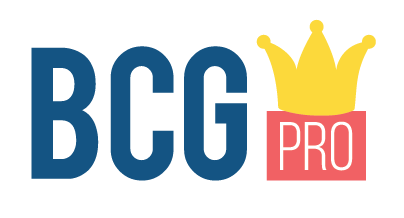 Enjoyed reading? This article is provided as part of
BCG Pro
. For much more like this, including premium articles, resources, tools and services,
find out more and subscribe
.