We talk to Shaun The Sheep Movie: Farmageddon co-director Will Becher (pictured, front left) about the film (which he made with Richard Phelan, front right) and his career.
How did you first become involved in directing? Was it a career you always had in mind?
Ever since I started at Aardman back on Chicken Run, I've dreamt of directing my own films. It's been amazing working as an animator under direction of Peter Lord, Nick Park and Richard Starzak (who developed Nick's character of Shaun the Sheep for TV and the big screen), to name a few, and has taught me a lot. My first opportunity to direct at Aardman was on a short film I wrote called Off Beat. The studio supported me with facilities and creative support whilst I made it with a micro budget and tiny crew. A few years later I found myself directing Shaun The Sheep Series 5 - a perfect preparation for directing this film.
What areas do you cover in the production process? Which decisions fall to you?
As directors we give creative input on every aspect of the production process. It's our job to communicate the idea for the film to the crew. We work with story artists, set designers, puppet makers and the floor crew, then edit, VFX, sound and music to get the ideas from our heads into the minds of all the talented folk working with us.
You worked as a pair on this film: how is that organised? Do you collaborate on all decisions, or take specific jobs each?
At first we spent a lot of time together - discussing ideas and story with producer, Paul Kewley. We had to be in agreement, which wasn't hard as we have a similar sense of what we wanted to achieve with the film. Once the production was in full swing - with a crew of around 140 - we divided up to direct sequences (the only way to get through it all). Always then meeting at the end of every day to see all the new footage cut in. A fantastic production team managed our time to the minute so that we were always working efficiently between the various departments and meeting up at the key moments.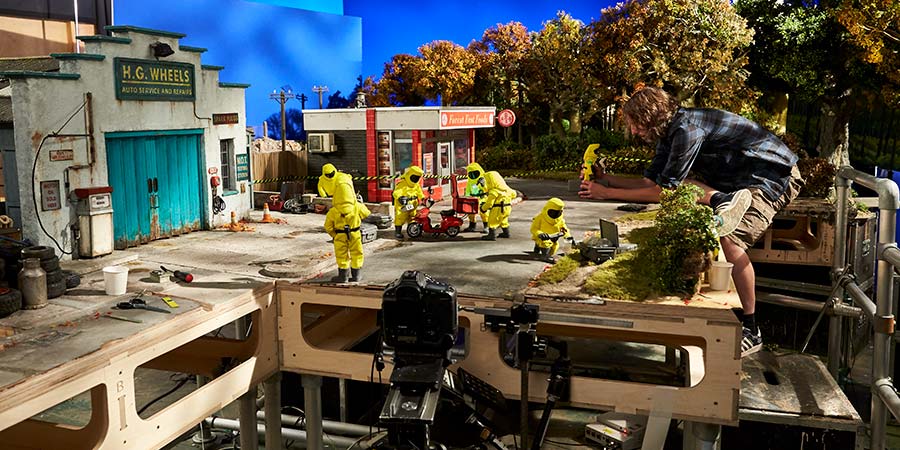 If there is such a thing, could you give us an insight into an average day for you in the studio, i.e. what time to you start, what do you do in the mornings/afternoons?
A day in the life of a director evolves throughout the shoot because at the start we had more time in the story and edit departments - and a much smaller crew. But a typical day mid-production looked a bit like this...
Work begins at 8am - we'd arrive in our shared office to look at the day ahead, and drink the first much needed coffee. Then discuss any unanswered questions together before going into edit to start cutting in shots and tests from the previous day. Around 9am we would get out into the studio floor and go off into our own sequences - which on a given day could involve walking up to 8 miles around a labyrinth of shooting units. We would meet crew, brief lighting, set design and direction and brief the animators on their given scenes.
Often Rich and I would act out the performance for each animator in a live action video unit - to rehearse it and give them a chance to analyse what was needed from the scene. We'd continue briefing crew on the floor visit up to the end of the shooting day around 6pm, at which point we would go to the edit room and continue discussing story issues, editing the film, and previewing VFX and music. Often these sessions would take us late into the night - eventually leaving around 10pm to try to get some rest before the next day. It feels a bit relentless when you are at this point on a film, so the idea that people think it takes patience always makes me smile!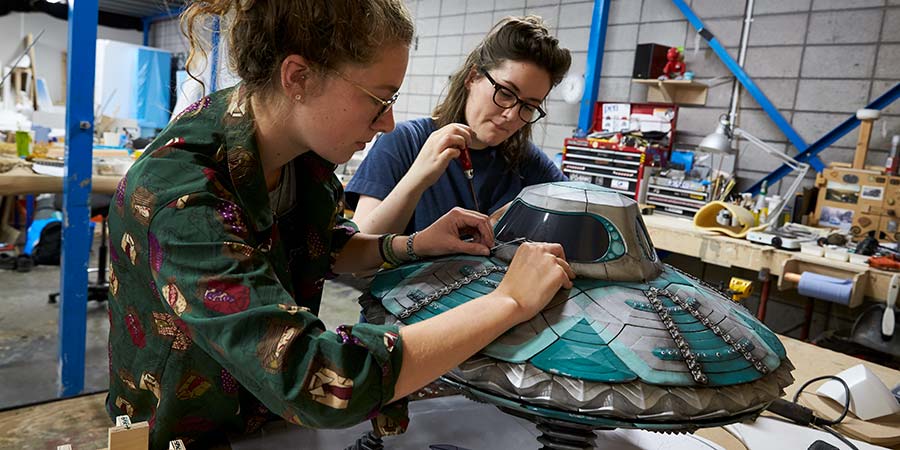 How long has it taken you to make Farmageddon? Is it hard to stay focused on the end goal, given how long the gap is between the first frame being captured and the last, never mind arriving on the big screen?
The film went into development around 4 years ago (after the first film had been released) with Paul Kewley. Over the following two years the script was developed and concept artwork created - before the crew began to expand and production began. It's about a year of shooting to make a film like Farmageddon, with each animator responsible for animating just over 1.6 seconds per day. You don't really get time to step back and think about the project as an end goal - it's so busy the work carries you through. People literally get engaged, married and have children during Aardman productions!
What have been the biggest challenges you've faced during the project?
Creating a sci fi film - and doing it justice - is not easy with stop motion. We've had a fantastic team creating visual effects in camera (like our masterful DoP Charles Copping), then enhanced it and made the universe with local VFX company Axis. This is something I think audiences won't really notice but it grounds the film in the genre, and I'm pleased about that authenticity. Our alien character Lu-La provided multiple challenges as we wanted to make her feel unique and give her some amazing intergalactic powers again using special effects.
How, if at all, has this project differed from the previous Aardman productions?
I've never tackled such a big and ambitious project like this before. It was certainly the hardest I've worked in my life - and it's been great to share that responsibility (and at times sheer madness) with Rich, whom I respect very much. We all love Shaun at the studio and being given the chance to make this film following the success of the first was a great honour. In terms of development I'm proud that we've made a film that feels so big, yet still have a real story of friendship and family at the heart of it.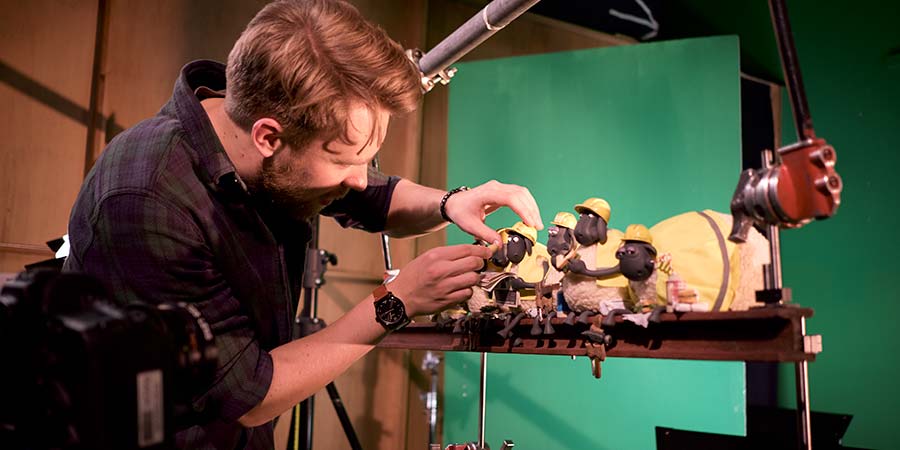 Compared to shooting a live action comedy, what particular things do you have to consider when it comes to directing animation?
We rely heavily on our story team for building up scenarios which allow the characters to do funny things. Ultimately, it's the animation team who deliver the performance and physical comedy with the characters. Unlike live action we can't record multiple takes so all the preparation goes into getting the best set up, then we cross our fingers and wait for the painstaking animation process to be done behind a closed curtain. It's funny that sometimes you have a joke and then you have to wait weeks to see the punchline. All the other departments feed into that comedy on screen with back ground gags, and sci-fi references.
Do you have any tips or advice for anyone looking to get into animation/directing?
The best advice is just start doing it - the way to learn is to make mistakes and with animation being a slow process it's better to get stuck in sooner rather than later. Once you've got something to show, ask people you admire for feedback and don't be too disheartened if you don't hear back or if the advice is to do more. Most people in the industry spent a long time getting where they did - so put in the time and you'll be rewarded in the end.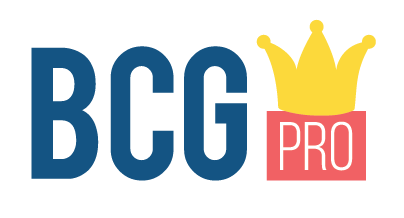 Enjoyed reading? This article is provided as part of
BCG Pro
. For much more like this, including premium articles, resources, tools and services,
find out more and subscribe
.