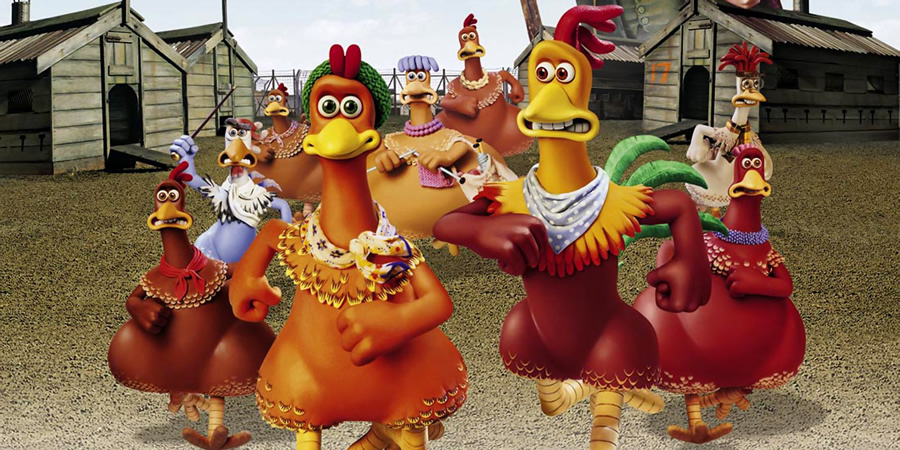 Genre

Film

Released

Starring

Mel Gibson, Julia Sawalha, Phil Daniels, Lynn Ferguson, Tony Haygarth, Jane Horrocks, Miranda Richardson, Timothy Spall and others

Writers

Directors

Peter Lord and Nick Park

Producers
For the hens on Mr. and Mrs. Tweedy's farm, life is tough. Egg-layers, they're kept in small hutches with no access to grass, limited open space, and a strict curfew at the hands of Mr. Tweedy and his vicious guard dogs.
Having long dreamt of - and made only semi-serious attempts at - escape, the hens are pushed to breaking point when one of their number is taken and killed by Mrs. Tweedy for a low egg yield: the escape is on.
As plans begin to form, the group is disturbed by the arrival of cockerel Rocky; a brash, American chicken with an ego and an apparent ability to fly. If, resolves leader Ginger, he can teach the hens how to take to the skies, then their freedom is assured. The crucial fact Rocky neglects to share, however, is that he is a runaway circus act, fed up of being shot from a cannon - so much for 'flying'!
Whilst Rocky strings the females along with promises of flight in return for their hiding him from recapture, Tweedy has her own plans: to turn the farm into a lean, ruthless money-making enterprise not through the production of eggs, but intensively feeding and farming their birds for a new range of home made chicken pies!
The race is on between Ginger, Rocky, and the Tweedys. Will the farmers get their all-in-one pie-making machinery installed and working before the birds make their escape? Will Rocky come clean about his 'flying'? Just how will Ginger get her compatriots to safety?
Tagline

This Ain't No Chick Flick!; Escape or Die Frying; A Few Good Hen; Feathers will Fly!; The Cluck Stops Here

UK certificate

U

Duration

84 minutes

Release date

Friday 30th June 2000

Distributor

Production company

Laugh track

None
Broadcast details
Last repeat

Sunday 30th May 2021 at 5:55pm on ITV
Website links