Winter Tourney - Matches 5 and 6

Me1 vs Me2 Snooker with Richard Herring: Winter Tourney - Matches 5 and 6
Two huge frames this week, as another lockdown is confirmed LIVE on air (and that's great for self-playing snooker). Scotch Me takes on King of the World Me and Successful Me takes on Me2. Nearly all these players have been knocked out in round one in previous tournaments, but which of them will flop out again? Controversy in the chat room, but only cos the chat room aren't reading their tea-towels.
Published: 6th January 2021. Length: 63 minutes. Size: 29.5mb
Video
Next Me1 vs Me2 Snooker episode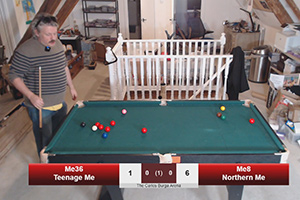 Date: 19th January 2021 Length: 58 mins Size: 27mb
After a week off to accommodate Richard's film career, we're full steam ahead with Teenage Me taking on Yorkshire Me and former champ Welsh Me taking on the lowlife that...