Winter Tourney - Matches 15 and 16

Me1 vs Me2 Snooker with Richard Herring: Winter Tourney - Matches 15 and 16
It's a thrilling end to round one of the Winter Tournament as we finally find out who the last 16 players will be. Interestingly all finalists from the first three tournaments are already out, so we're guaranteed two virgin finalists (even more virgin if teenage me was still in). Tonight sees Female Me take on Somerset Me in one of the most exciting frames ever and then self-doubting me takes on oversensitive me in one of the most forgettable frames ever. Next week, if God be willing, we'll be back with the start of round two. Incredibly exciting times, especially for any five year olds watching.
Published: 16th February 2021. Length: 60 minutes. Size: 27.6mb
Video
Next Me1 vs Me2 Snooker episode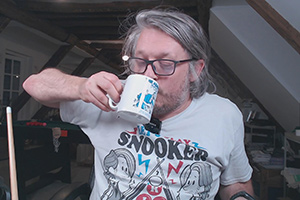 Date: 23rd February 2021 Length: 53 mins Size: 24.6mb
Winter Tournament - Round 2, Matches 1 and 2. Rich is about to take a shortish break (geddit) but manages to get in two frames before lockdown, though the snooker...