Winter Tourney - Round 2, Matches 7 and 8

Me1 vs Me2 Snooker with Richard Herring: Winter Tourney - Round 2, Matches 7 and 8
From Me and All the Mes - It's been a tricky few weeks for all sorts of reasons but the second round matches end with a huge bang as Samuel Beckett Me takes on the never defeated Motorcycling Me and 'Legs' 11 takes on Self-Doubting Me. We've lost some big scalps and some even better accents in this tournament. Will the disappointment continue? You will be on the edge of your seat for both frames with some fine, fine snooker on the old green board. By the end of this broadcast you will know the names of the 8 Mes who will be battling it out over the next four weeks to win the truly amazing trophy.
Published: 27th April 2021. Length: 54 minutes. Size: 24.7mb
Video
Next Me1 vs Me2 Snooker episode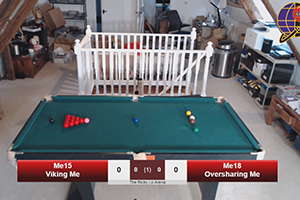 Date: 5th May 2021 Length: 50 mins Size: 23.2mb
Self-Playing Snooker Winter Tourney - QFs 1 and 2 - Marmite Face. Richard has had to make a difficult choice re making money or maintaining the integrity of the one...