RHLSTP 223 - Stephen Grant

RHLSTP 223 - Stephen Grant
RHLSTP #223: Second. Back at the Old Market in Hove for a second (separate) week and Richard has more disappointing reviews of local tourist attractions, plus news of a life-changing bin-based compensation. His guest is a man who is more Brighton than a stick of rock, it's Stephen Grant. Stephen tells us how he came within a heartbeat of being in Top Gear and might also have been in The Office were it not for excellent advice from his (ex) manager. Also the pros and cons of being followed by a film crew during his first Edinburgh Fringe, the disappointment of not flying in an air ambulance and whether it's more impressive to lose weight by accident or design. Some classic old Emergency Questions are pulled out of the bag and there's a more serious discussion about whether comedians should write their own material. Another lovely tour podcast. Do check out the gig guide to see if the show is coming near to you.
Download episode
(right click, select save link)
Published: 4th September 2019. Length: 64 minutes.
Video
Next RHLSTP episodes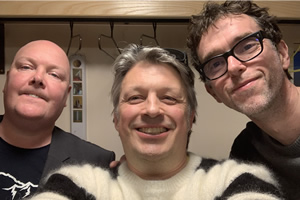 Date: 11th September 2019 Length: 60 mins Size: mb
RHLSTP #224: Emmerdale Farm. There's a weird giddy atmosphere in the room at the Leeds City Varieties, but you'll have to try and use the clues in this podcast to...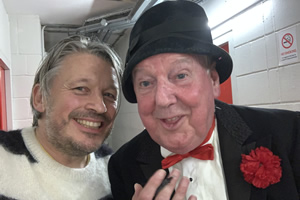 Date: 18th September 2019 Length: 62 mins Size: mb
RHLSTP #225: Come Closer To The Screen. We're on the road still and at the Lowry in Salford where the lightest local headline is not really ripe for frivolity, but...