RHLSTP 224 - Mark Charnock and Dominic Brunt

RHLSTP 224 - Mark Charnock and Dominic Brunt
RHLSTP #224: Emmerdale Farm. There's a weird giddy atmosphere in the room at the Leeds City Varieties, but you'll have to try and use the clues in this podcast to piece together what you think might have happened, because this week the guests are the supremely polite and sensible Mark and Dominic (aka Marlon and Paddy from Emmerdale Farm).
Download episode
(right click, select save link)
Published: 11th September 2019. Length: 60 minutes.
Video
Next RHLSTP episodes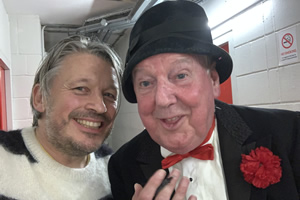 Date: 18th September 2019 Length: 62 mins Size: mb
RHLSTP #225: Come Closer To The Screen. We're on the road still and at the Lowry in Salford where the lightest local headline is not really ripe for frivolity, but...