RHLSTP 161 - Johann Hari

Richard Herring's Leicester Square Theatre Podcast: RHLSTP 161 - Johann Hari
RHLSTP #161: Johann Hari - Cannibal Chicken. The question of ham hands versus suncream armpits has gone international and been introduced to a new generation in the most charming of ways. But hat confusion, decade old Big Brother news and chicken restaurants aside, it's a pretty serious podcast in which journalist Johann Hari discusses his fascinating new book, Lost Connections. Are our views on depression and antidepressants correct or do we need to look at these subjects in a new way? Johann discusses how an encounter with an apple made him consider the importance of listening to our symptoms, plus the power that people have to overcome the systems that can make them sad or even give up hope entirely. Is Rich's dad crazy for wanting to engage with strangers or is Rich insane for being disconnected from his neighbours? Do possessions bring us happiness? Do lesbian monkey orgies have anything to teach us? And what can bring Muslims, punks and gay men together? No emergency questions. Unless you consider the future of the human race an emergency.
Buy Johann's brilliant book, and buy Richard's less life-changing books at gofasterstripe.com. See Richard on tour or come to a podcast record: richardherring.com/gigs
Published: 10th January 2018. Length: 69 minutes. Size: 94.7mb
Video
Next RHLSTP Episodes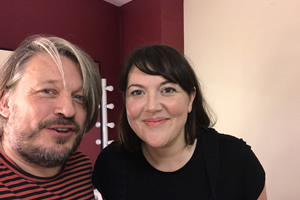 Date: 17th January 2018 Length: 69 mins Size: 95.1mb
RHLSTP #162: Katy Wix - Burned Bunting. Richard hits comedy gold and finds the person with the perfect job to riff about for as long as an hour if he...
Richard Herring's Leicester Square Theatre Podcast - All Episodes