RHLSTP 165 - Kathy Burke

Richard Herring's Leicester Square Theatre Podcast: RHLSTP 165 - Kathy Burke
RHLSTP #165: Kathy Burke - I Don't Do Blow Jobs. Richard's living in a house of horrors and has heard a ghost, so he's glad to be back in the safety of lovely, undangerous London to find out if Kathy Burke is as cool and amazing in real life as you really hope that she is. She's cooler than the coolest cool kids. They chat about the many paths taken from Educating Marmalade, where you might unknowingly have first encountered Kathy, when Perry met the Manics, who is best Harry Enfield or Gary Oldman, a reluctant visit to Cannes, why Burke moved from acting to directing and the joys of Oscar Wilde. Also featuring Horne and Corden, the Mona Lisa and not being in Doctor Who. A new notebook, new chairs and new microphones - sorry audiophiles about the last one of those - we will be back to uncrackly next week.
Get 8 free craft beers (you pay postage of £5.95) by signing up at beer52.com/RHLSTP and they will pay RHLSTP £5 (you will be signed up for monthly case of beer for £24, but can leave at any time, including immediately). You get free beer and free podcasts.
You can still get cheaper and renewable energy, plus a £50 credit for you and Richard by joining Bulb; Or become a Dripster or a badger for extra content and the chance of prizes!
Come and see RHLSTP recorded live or see Richard perform Oh Frig I'm 50!
Published: 8th February 2018. Length: 88 minutes. Size: 93.8mb
Next RHLSTP episodes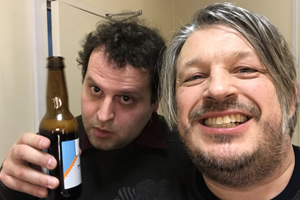 Date: 14th February 2018 Length: 58 mins Size: 80.6mb
RHLSTP #166: Adam Kay - Degloved Penis. This week's guest is doctor turned comedian turned best-selling author Adam Kay. They discuss his hilarious, harrowing and politically important book - [link=http://bit.ly/AdamKayBook]This...
Richard Herring's Leicester Square Theatre Podcast - All Episodes