RHLSTP 168 - Danielle Ward

Richard Herring's Leicester Square Theatre Podcast: RHLSTP 168 - Danielle Ward
RHLSTP #168: Danielle Ward - Sting's Bloody Toilet. Technology delivers a cruel blow to Richard as it deletes his carefully crafted opening monologue about Cheddar Man, but he has a crack at it from memory. Richard is giddy from tiredness caused by nasty bugs from his stupid children and his guest, Danielle Ward, had a complicated and scary birth only 13 weeks ago, so it's no surprise that things go a bit giddy and occasionally over the top. How many revelations about Prince Andrew and Dame Judi Dench will make it to air? Not very many is my guess. This is why you should come along and see the show live if you can. Find out what it's like to work as an economic researcher at the South Korean embassy (when you know nothing about the economy or Korea); which member of Lee & Herring Danielle wrote to in 1996; the difficulty of transferring a successful podcast to television; and what the most popular TV show of 1970 was. Find out about two moments from the life of Benedict Cumberbatch; how Rich bonded with Adrian Chiles; and why Danielle loves Debbie McGee. You will just have to imagine the bits we had to cut out (and if you listen to some of the bits that stayed in, you're going to wonder how far we actually went).
If you want to receive 8 free craft beers (you just pay postage) and give the podcast £5 without having to hand us any money, then sign up to our sponsors Beer 52 (you can unsign up any time, but if you don't you will receive 8 craft beers a month for £24).
Richard is on tour with Oh Frig I'm 50! Come and see him if you can
Help us make more podcasts and get loads of extras and the chance to win exclusive prizes either as a Dripster or a monthly badger
Published: 28th February 2018. Length: 69 minutes. Size: 95.3mb
Video
Next RHLSTP episodes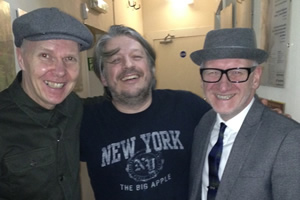 Date: 8th March 2018 Length: 73 mins Size: 135mb
RHLSTP #169: Trev and Simon - You Are An Idiot. Rich is looking forward to International 'When's International Men's Day?' Day, but for now it's International We Don't Do Duvets...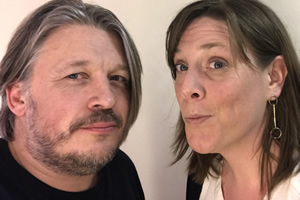 Date: 14th March 2018 Length: 64 mins Size: 88.1mb
RHLSTP #170: Jess Phillips - Jeremy Corbyn's Salad Sandwich. Rich's daughter seems to be on her way to a mediocre career in comedy and he could not be more proud,...
Richard Herring's Leicester Square Theatre Podcast - All Episodes