Series 7, Episode 1 (Bleed The Radiators)

Pappy's Flatshare Slamdown: Series 7, Episode 1 (Bleed The Radiators)
Tom Allen and Phil Wang join Pappy's in the first episode of the new series! Keen eared listeners will spot a few refinements, additions and omissions to the classic #flatslam format...
...not really! It's the same old gubbins, lovingly packaged this time round into a convoluted radiator-themed flat-centric argument. Within you will find really hot rapping, hard-hitting moral lessons, a toilet-based beef and high scoring agogo.
As it is a new series, your help spreading the word to the as-yet-unconverted is especially helpful!
Published: 1st May 2017. Length: 51 minutes. Size: 70.1mb
Next PFS Episodes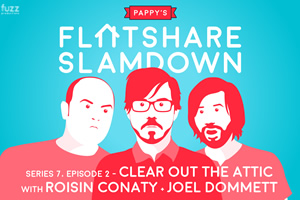 Date: 1st June 2017 Length: 52 mins Size: 72.2mb
Roisin Conaty and Joel Dommett are Pappy's house guests in a show that features high singing, confusing listing, one testicle and Matthew having a breakdown. And, as you'll hear...