Series 7, Episode 6 (Lou Conran & Benjamin Partridge)

Do The Right Thing: Series 7, Episode 6 (Lou Conran & Benjamin Partridge)
Lou Conran and Benjamin Partridge are on board for discussions about being indoors for an earthquake, shaking hands, sucking thumbs, dead rats (and badgers), kids eating food off the pavement plus an awful lot about worms with expert guest professor Dr Jonathan Pettitt.
Download episode
(right click, select save link)
Published: 10th September 2019. Length: 54 minutes.
Next DTRT episodes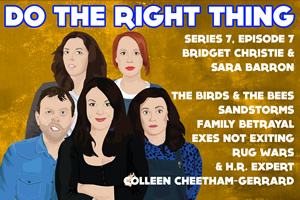 Date: 17th September 2019 Length: 51 mins Size: mb
Bridget Christie and Sara Barron are the guests for a joyous romp through subjects including talking about the birds and the bees with your kids, sandstorms, disowning family for motorcycling...