Series 7, Episode 9 (Rachel Fairburn & Neil Edmond)

Do The Right Thing: Series 7, Episode 9 (Rachel Fairburn & Neil Edmond)
Rachel Fairburn and Neil Edmond are the perfect guests for a show that considers runaway horses, meeting strangers from the internet in real life, unwanted matchmaking, secret tattoos and aggressively smelly bosses. There then follows a frankly delightful chat with expert cruise ship entertainment and hospitality director Peter Gibbs.
Download episode
(right click, select save link)
Published: 1st October 2019. Length: 51 minutes.
Next DTRT episodes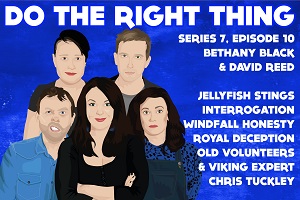 Date: 8th October 2019 Length: 62 mins Size: mb
Bethany Black and David Reed join the gang in glorious York for the first ever recording outside London or Edinburgh (yes, we know you've already heard the Birmingham recording, but...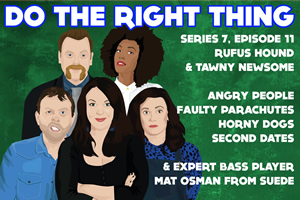 Date: 15th October 2019 Length: 52 mins Size: mb
Rufus Hound and Tawny Newsome guest at the London Podcast Festival in a show that considers calming down angry people, surviving a freefall without a parachute, how to cope with...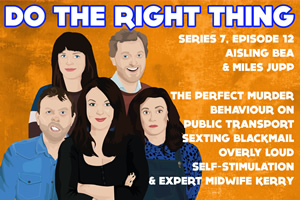 Date: 22nd October 2019 Length: 55 mins Size: mb
Aisling Bea and Miles Jupp are the guests for the final show of this mammoth series - and we go out with a bang in an episode that considers how...