Series 7, Episode 11 (Rufus Hound & Tawny Newsome)

Do The Right Thing: Series 7, Episode 11 (Rufus Hound & Tawny Newsome)
Rufus Hound and Tawny Newsome guest at the London Podcast Festival in a show that considers calming down angry people, surviving a freefall without a parachute, how to cope with a dog who wants to join in when you're having sex, the whys and wherefores of getting a second date (featuring possibly the worst advice ever given in the course of an Agony round courtesy of Danielle) and a very fun Ask The Expert round with expert guest bass player Mat Osman from Suede!.
Download episode
(right click, select save link)
Published: 15th October 2019. Length: 52 minutes.
Next DTRT episodes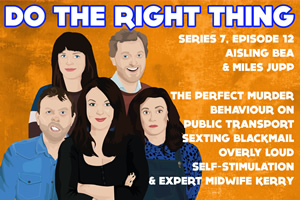 Date: 22nd October 2019 Length: 55 mins
Aisling Bea and Miles Jupp are the guests for the final show of this mammoth series - and we go out with a bang in an episode that considers how...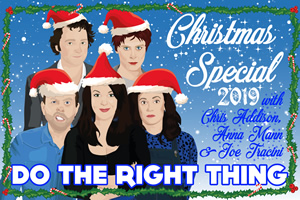 Date: 22nd December 2019 Length: 76 mins
Chris Addison and Anna Mann are the gifts that keep on giving in the 2019 Christmas Special! It is a very traditional affair, with all the usual festive ingredients you'd...