Series 7, Episode 12 (Aisling Bea & Miles Jupp)

Do The Right Thing: Series 7, Episode 12 (Aisling Bea & Miles Jupp)
Aisling Bea and Miles Jupp are the guests for the final show of this mammoth series - and we go out with a bang in an episode that considers how to commit the perfect murder, how to behave on public transport, what to do if you sext your ex and then they start blackmailing you, how to deal with flatmates whose onanism is too noisy and a few new-life lessons from expert midwife Kerry.
Download episode
(right click, select save link)
Published: 22nd October 2019. Length: 55 minutes.
Next DTRT episode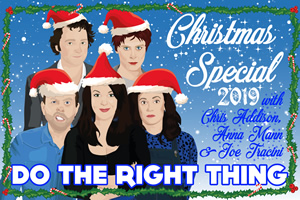 Date: 22nd December 2019 Length: 76 mins
Chris Addison and Anna Mann are the gifts that keep on giving in the 2019 Christmas Special! It is a very traditional affair, with all the usual festive ingredients you'd...