Biography
Tom Walker is an English comedian best known for creating the irate, fictitious British news reporter Jonathan Pie, whose first appearance came on 21 September 2015. Pie appears in a series of video clips, widely disseminated on social media, in which he closes off a segment as though a real TV reporter, handing back to the studio, before ranting animatedly to cameraman 'Tim' about the state of UK and US politics, revealing with a flourish what he really thinks about the current situation. Pie's monologues were originally co-written with comedian and journalist Andrew Doyle.
His first spoof news report was released shortly after the election of Jeremy Corbyn as leader of the UK Labour Party, after which Walker soon began work with RT UK. But it was with a video immediately following the 2016 US election, won by the Republican candidate Donald Trump, that Pie achieved international coverage. It trended on YouTube, with Pie's customary ranting-and-raving style, both well-informed and aggressive, given free rein.
In 2016 he embarked upon his debut stand-up tour, Jonathan Pie Live, and these were followed by 2018's Back To The Studio[/c[ and 2019's The Fake News Tour. In 2018 BBC Three released both Jonathan Pie: Back To The Studio, a live recording of the Hammersmith Apollo leg of this second tour, and Jonathan Pie's American Pie, which focused specifically on sociopolitical issues during Trump's administration.
In his videos and live tours, Pie vents his spleen at both sides of the political divide, skewering hypocrisy on the far-left and the far-right and scrutinising the state of contemporary debate, leaving no prisoners behind. As his frustrations boil over and he explodes before the camera, he speaks for a whole nation - indeed, a whole planet - desperate for hope and change in a world that seems increasingly fractious, angry, and disordered.
Stage name

Jonathan Pie

Gender

Male

Nationality

England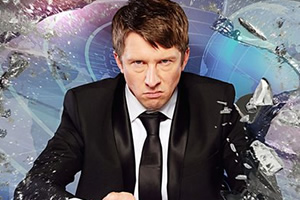 Jonathan Pie: Back To The Studio - Jonathan Pie