Stephen Fry documentary
Stephen Fry hails 21st Century Firsts in new ITV documentary
Stephen Fry is to present the film 21st Century Firsts
The 90-minute special will focus on big developments over the last two decades
The subject matter includes mobile phones, sat-navs, medicine, social media and more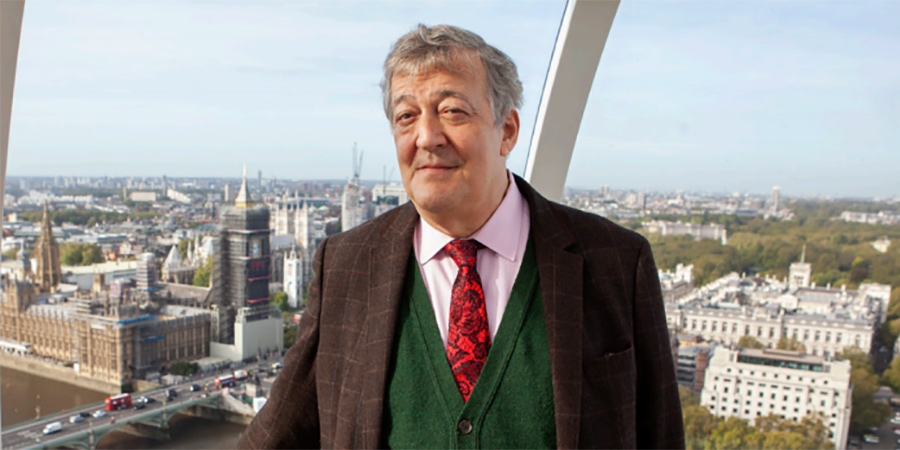 Stephen Fry is to present an ITV documentary on the most influential developments of the last 20 years.
With the working title 21st Century Firsts, the review show will feature archive footage and Fry speaking to a number of significant interviewees, exploring an era before smart-phones, satellite navigation and selfies.
He will focus on the day-to-day the services which have transformed contemporary lives and which people now take for granted, such as Facebook, Twitter, Tinder, Uber, Airbnb and food delivery apps. It will also highlight some of the breakthroughs in medicine, technology, sport and culture.
As well as experts, the film will interview ordinary people who were involved in these firsts - such as the woman who was the voice of the first sat-nav.
Recorded over lockdown, the 90-minute film is expected to air later this year.
21st Century Firsts is directed by Christian Watt (Jack Whitehall: Travels With My Father) for Spun Gold, who previously worked with Fry on the 2017 Channel 4 documentary Britain's Gay Buildings and are making the forthcoming Paul Merton's Comic Heroes for Channel 5.
"The last two decades have fundamentally changed the way we all live, work and relate to each other. This ITV special commemorates and celebrates 21 years of extraordinary advancement for humankind, in an entertaining, roller-coaster of a ride," said Daniela Neuman, managing director of Spun Gold TV.
The film is produced by Louise Quayle and executive produced by Bridget Boseley. It was commissioned by Jo Clinton-Davis.
Fry's latest book, a retelling of the Greek myths, Troy: Our Greatest Story Retold, is published on 29th October.
He has also remotely recorded a role for an online performance of What A Carve Up!, based on the 1994 satirical novel by Jonathan Coe, which itself incorporates the 1961 comedy film of the same name, starring Sid James, Kenneth Connor and Shirley Eaton.
Playing the role of Patrick Mills, who does not feature in the novel, which reflects the immorality, greed and ambition of 1980s Britain, Fry stars alongside Rebecca Front, Derek Jacobi, Celia Imrie, Dervla Kirwan and his fellow former Cambridge Footlights Griff Rhys Jones and Robert Bathurst in the online production, which will screen from 31st October to 29th November.
Adapted by Henry Filloux-Bennett and directed by Tamara Harvey, the show is being produced as a fundraising drive by regional venues The Barn Theatre, Lawrence Batley Theatre and New Wolsey Theatre. The cast also includes Jonathan Bailey, Samuel Barnett, Fiona Button, Sharon D Clarke, Alfred Enoch and Tamzin Outhwaite.
Fry will also appear in It's A Sin, Russell T Davies' AIDS epidemic drama for Channel 4 next year. Starring Olly Alexander, the cast also features Keeley Hawes and Neil Patrick Harris (How I Met Your Mother).
---
For updates, click the button below.
Share this page
A relevant picture from the programme was added to this story on 11th November